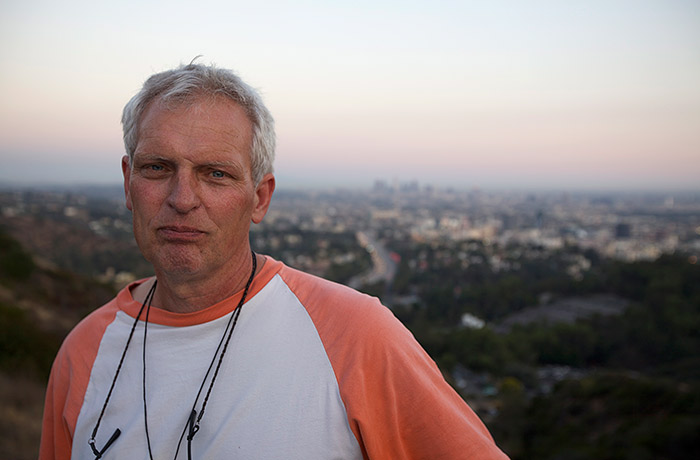 The inventor and consistent adherent of radical 'staged documentary', Jon Bang Carlsen will speak about his unique approach to seeking reality by actively creating it at the point where genres intersect. However paradoxical it may sound, the Danish director claims that for him, such an approach is the only way to get closer to reality.
"The kind of documentary that pretends to portray reality, without reality reacting to the medium, is lethal. Pompous objectivity is only a bad excuse for simple manipulation. Not that there is anything wrong with manipulation. Touching the world is necessary for shaping the world, but if it is done without the hand acknowledging its actions, we are astray in an ugly, loveless landscape, the landscape of rape.
'Inventing reality' is a plain necessity. If we merely let the camera mirror reality, we see only the body, not the soul animating the body. Only by telling fictitious as well as factual stories – only if you are talented and, above all, uncompromisingly honest in your perception of the world – will you be able once in a while to make a story that others can use.
To me, the documentary is no more 'real' than the fiction film, and the fiction film no more fantastic than the documentary. There is no 'reality' which, when seen from a different angle, cannot be revealed as a dream. In order to tell about the world, you have to define the truth in a way that does not exclude lying." (Jon Bang Carlsen).
The lecture of Jong Bang Carlsen will be held right after the screening of his film It's Now Or Never on Sunday, the 27th of March, Cinema House, Blue Hall. The film start at 8 p.m. and lasts 45 minutes. After the film there will be an extended Q&A with the director moderated by Tue Steen Muller (~ 15 minutes), and after that the lecture will begin and last approximately until 11 p.m. We strongly recommend you to watch the film. However, for those who would like to join the lecture without watching the film, there will be a possibility to enter the hall at 9 p.m. To enter the screening, you will need a ticket. Admission to the lecture is free.
Jon Bang Carlsen was born in 1950. He graduated from the Danish Film School in 1976. He has written and directed more than thirty films, both documentaries and features. The director's signature hybrid style combines documentary and fictional interpretations, and many of his documentaries are visually and symbolically powerful, often staged portraits of marginal figures and milieus.
FILMOGRAPHY
Selected: Før gæsterne kommer (1986), Addicted to Solitude (1999), Min afrikanske dagbog (1999), Cats in Riga (2014)