Denys is 14. He is loser in studies, but expert in DOTA. 'The school diary is your face', - teachers say to him. Every single pupil in post-Soviet states is familiar with this phrase. It means that the notebook with marks - is the projection of your personality. Denys thinks opposite. He records himself everyday and reflects on the things that really worry him. We are behind the scenes of the teenager`s life. The way of growing up - how it looks like?
CREW
Director: Oleksandra Chuprina
Producer: Oleksandra Chuprina, Illia Yehorov
Operator: Illia Yehorov
Editor: Oleksandra Chuprina, Illia Yehorov
Sound: Artem Mostovyy, Karina Rezhevska
Production and Sales
3KO production, Tel.: +38 063 449 10 03, Olexandra Chuprina, alexchify@gmail.com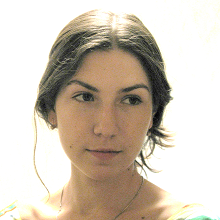 Director
Olexandra Chuprina
Olexandra Chuprina was born in Odesa. She graduated from the Kyiv National University of Theater, Cinema and Television, department of TV direction. During the Maidan, she joined #BABYLON'13 and fell in love with documentary cinema. In 2015, she participated in the USC School of Cinematic Arts in Los Angeles, which is an international workshop for documentary filmmakers. Between 2014 and 2015, she worked at the New Donbas NGO. In 2016, she participated in the Visegrad Summer School in Krakow.
Filmography
Selected: How We Became Volunteer Soldiers (2015), Bohdan's Happiness (2015), Zero Point (2016)