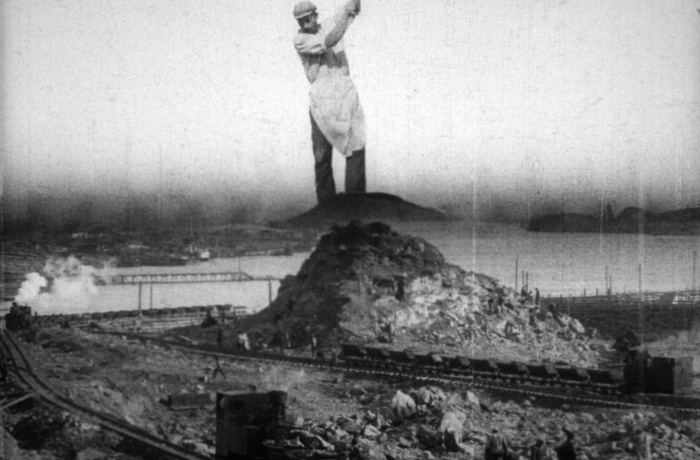 The Oleksandr Dovzhenko National Centre, together with Docudays UA, presents:
the closing of the Docudays UA International Human Rights Documentary Film Festival
as part of the KOLO DZIGI program
the premiere of the restored film The Eleventh Year by Dziga Vertov (1928, Ukrainian SSR)
with music by Anton Baibakov
The Eleventh Year is a documentary based on a Soviet newsreel shot during the 1920s, telling the story of the construction of socialism. It is the first film filmed by Vertov in Ukraine. The eleventh year of Soviet rule was a period of industrialization, as well as the building of DniproHES and other giants of Soviet industry. The director intentionally focused on this non-anniversary year to avoid holiday shows and official government celebrations. The camera is focused only on the most important thing, which is work – the tireless construction of a new socialist reality in Ukraine. On February 28, 1928, Dziga Vertov said that The Eleventh Year was written directly by the movie camera, without the mediation of a script, and that the camera had replaced the writer's pen. This allowed Vertov to claim that he had invented a pure cinematic language (deeply socialist at the same time), in which the camera deals directly with the raw material of the facts.
KOLO DZIGI is a program to promote Ukrainian cinema, which was initiated by the National Oleksandr Dovzhenko Centre in 2011. Within the program, performances (silent avant-garde film screenings accompanied by live contemporary music) are held every two months, each time in a different non-cinematic location. For instance, Dziga Vertov's Man with a Movie Camera was shown in the Kyiv Planetarium, while Turksib by Viktor Turin was screened in the former Trolley Drivers' Club.
Anton Baibakov was born in 1983. He is been composing from 1998. In 2005 Anton graduated from Ivan Karpenko-Kary National Theatre, Cinema and Television University in Kyiv. He worked as sound director on TV, radio and film post-production, sound designer and composer for feature, documentary films and commercials. As independent musician he constantly works with well-known Ukrainian bands (DakhaBrakha, Katya Chilly). In 2011 he got two prizes for best soundtracks at Ibiza International Film Festival, Spain (I'm not Telling by Igor Kopylov) and Open Night Film Festival, Ukraine (Hoydalka by Serhiy Myronenko).
Production
Всеукраїнське фотокіноуправління (ВУФКУ), Українська РСР / All-Ukrainian Photo-Cinema-Directorate (VUFKU), Ukrainian SSR
Sales:
Державне агентство України з питань кіно / Ukrainian State Film Agency, vul. Lavrska 10, Kyiv, Ukraine, +38 (044) 280-27-18, www.dergkino.gov.ua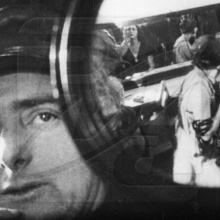 Director
Dziga Vertov (David (Denis) Kaufman)
Dziga Vertov (1896—1954) was a Soviet pioneer of avant-garde documentary film, a newsreel director and cinema theorist. His filming practices and Cine-Eye theory were influential for future generations of documentary moviemakers. Fired from Sovkino, Vertov moved to Ukraine at the request of the Odessa Film Studio. In Ukraine he shot three films: The Eleventh Year (1928), Man with a Movie Camera (1929), which is often named among the best movies ever, and Enthusiasm (1930), which was the first Ukrainian sound film and the first of Vertov's film with a soundtrack. The distribution of these three films was not very successful, yet it is impossible to overestimate their influence on the later development of documentary filmmaking.
Selected Filmography
(selected): Cine-Eye (1924), Cine-Truth (1925), A Sixth of the World (1926), The Eleventh Year (1928), Man with a Movie Camera (1929), Enthusiasm (The Donbas Symphony) (1930), Three Songs About Lenin (1934), Lullaby (1937)