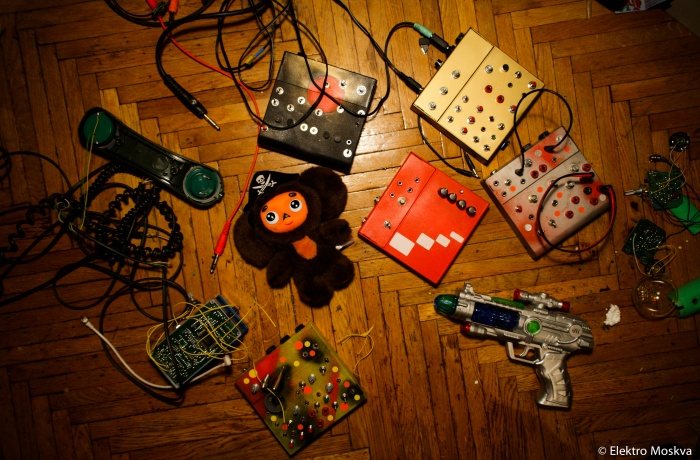 On April 20 at 7 pm OK Projects and Docudays UA present a documentary film Elektro Moskva (Austria, 2013, 89') by Elena Tikhonova, Dominik Spritzendorfer. The screening will take place at Closer club (vul. Nyzhnioyurkivska, 31).
Аn essay documentary about the Soviet electronic age and its legacy. The story begins with the inventor of the world's first electronic instrument, Léon Theremin, unveiling the KGB's huge pile of fascinating devices, some of which were musical. They all came into existence as a by-product of a rampant defense industry. Nowadays, those aged and abandoned 'musical coffins', as solidly made as a Kalashnikov, are being recycled and reinterpreted by the post-Soviet generations of musicians, sound collectors and circuit benders. The story of the Soviet synthesizers is an allegory to the everyday life under the Soviet system: nothing works, but you have to make the best out of it. An electronic fairy tale about the inventive spirit of the free mind inside the iron curtain.
More info: elektromoskva.com
Entrance is free for pre-registered attendees - http://goo.gl/sMK4fF
Zvuk is the first open music course in Kyiv. The course is examining events and processes of this kind of art; it takes a close look at its crucial events that have changed our perception of sound. Yet it is not an academic set of lectures on history of music or its theory. This is a space for personal musical discoveries and acceptance of personal musical religion. Zvuk consists of 16 lectures by prominent representatives of academic, jazz, and electronic music of 20th century. More about Zvuk course: okprojects.org, facebook.com/okprojects
Docudays UA is the only human rights documentary film festival in Ukraine. It takes place each year in Kyiv in the last week of March. After the Festival, there is a traditional Traveling festival that brings the festival best films to regions of Ukraine, which takes place between October and December. The festival is non-political and non-commercial. 12ve Docudays UA will take place on March 20-16, 2015. Deadline for submissions: November 30, 2014.