This is an unfiltered, fly-on-the-wall account of how the Donetsk People's Republic came into being, filmed with astonishing access inside the Donetsk Administration Building over a six-week period from May to April, and follows the fortunes of a handful of revolutionaries from lowly militia to government figures. It's an often bizarre observational insight into the some of the dynamics inside the 'birth of a country' and why people joined the rebel groups. The people of the film refuse to conform to the stereotypes that the Russian, Western or Ukrainian media have put on them. Come and see how the war began.
Production and Sales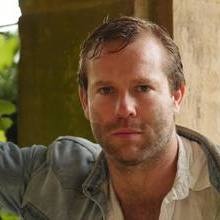 Director
Antony Butts
Antony Butts is a Russian-speaking freelance documentary maker, cameraman and video journalist. He has won an Amnesty International Award for filming in the North Caucasus, and has a degree in Physics from Imperial College. Antony is passionate about films that immerse the viewer in the world of characters with both good and bad qualities as they struggle in a complex world. The results are films that are often full of absurdity, and challenge the viewer to engage with both sides of a highly contentious issue.
Selected Filmography
Selected: Ukraine's Lost Children (2009), Inside the Court of the Chechen King (2009), Pussy Riot: A Punk Prayer (2013)