Awards Ceremony of Docudays UA-2017 will be held before screening
Under the loving but firm guidance of an old fan turned director and cultural diplomat, and to the surprise of the whole world, the ex-Yugoslavian (now Slovenian) cult band Laibach becomes the first rock group ever to perform in the fortress state of North Korea. Confronting strict ideology and cultural differences, the band struggles to get their songs through the needle's eye of censorship before they can be unleashed on an audience never before exposed to alter- native rock'n'roll. Meanwhile, propaganda loudspeakers are being set up at the border between the two Koreas and a countdown to war is announced.The hills are alive... with the sound of music.
CREW:
Director: Uģis Olte, Morten Traavik
Producer: UldisCekulis, Morten Traavik
Cinematographer: Valdis Celmiņš, Sven-Erling Brusletto
Editor: Gatis Belogrudovs, Ugis Olte
Sound: Artis Dukaļskis, Ernests Ansons
Production
Traavik.Info, VFS Films
Sales: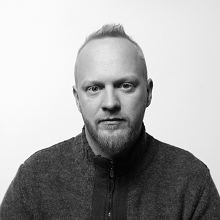 Director
Uģis Olte
Uģis Olte is a Latvian director and editor who enjoys staying playful when dealing with serious subjects. Equipped with senses of a musician and a belief that dreams, myths and fairy-tales can be useful tools for telling any contemporary story, he has created numerous original TV formats, music videos, ads and also 3 short fiction films,The Red Spot, KK2678 and King Of The Wild Things. His efforts in documentary genre have resulted in two films,Stuck in Stikine (2007) and Double Aliens (2015), premiered at last year's IDFA mid-length competition.
Selected Filmography
Selected: Stuck in Stikine (2007), Double Aliens (2015)
Director
Morten Traavik
Morten Traavik is a Norwegian director and artist working across a wide spectrum of artistic genres and international borders. Trained as a theatre director in Russia and Sweden, the notion of the world as a stage and identity as role play is never far away in his works, as well as a characteristically blurred distinction between art, activism and social issues. His beauty pageants for landmine survivors, Miss Landmine Angola (2008) and Miss Landmine Cambodia (2009) made headlines and fuelled discussions across the world. He is also renowned for a series of controversial collaborations with North Korean artists and cultural authorities, as well as being an authorised cultural affairs liaison for that country.
Selected filmography: Miss Landmine Angola (2008), Miss Landmine Cambodia (2009)