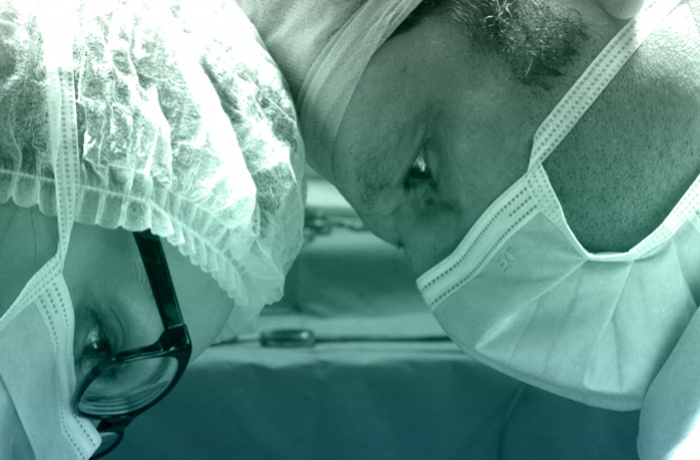 We invite you to join the online discussion on Health Care Reform during the Pandemic: How Are Medical Professionals Overcoming New Challenges? on April 17 at 6 p.m. We will discuss how to counteract the problem of burnout among medical personnel at the level of the healthcare system. To join the discussion, look for the livestream of the event on the docudays.ua website or on the Facebook event page: https://bit.ly/burningoutdiscussion.
After the discussion, we invite you to watch the film Burning Out by the prominent Belgian filmmaker Jérôme Le Maire. For two years, he watched and filmed the work of surgical ward staff at one of the major hospitals in Paris. The film will be exclusively available on the DOCU/SPACE platform from the moment the discussion ends and during the festival*.
The workload of the doctors who work on the front lines of fighting the coronavirus pandemic is growing extremely rapidly. The enormous increase in the numbers of patients, working under conditions of lack of resources and increased health risks are the realities which more and more doctors are now forced to face. So another problem that COVID-19 will lead to is professional burnout among medical staff. Can this be prevented? How could changes in the healthcare system help solve the problem? How can a doctor take care of themselves and avoid professional burnout or deal with its consequences?
This will be discussed this Friday at 6 p.m. by:
Oleksandr Linchevsky, Deputy Minister of Health (2016–19), Director of the Oberig Clinic;

Alla Myronenko, Head of the Viral Infections Ward at the L. V. Hromashevsky Institute of Epidemiology and Infectious Diseases of the Ukrainian National Academy of Medical Sciences;

Oksana Savytska, analytically-oriented psychologist, member of the Ukrainian Development Group of IAAP.
The online conversation will be moderated by Maryana Zaviyska, a facilitator and tutor (Collective Leadership Institute, Potsdam), managing partner at OpenSpaceWorks Cooperative. The discussion will last for 1 hour.
"It is extremely hard to predict how the medical system will respond to the challenges posed by COVID-19. At the moment, we are observing the lack of proper conditions of work for medical workers; professional burnout has been exacerbated by exhaustion from endless shifts, increased risk of getting infected by a disease which has no specific treatment, the suspended healthcare reform. What's next? Let's think about this during the discussion," comments Ksenia Shymanska, the Director of the Docudays UA Human Rights Department.
* - the number of views of the film at DOCU/SPACE is limited