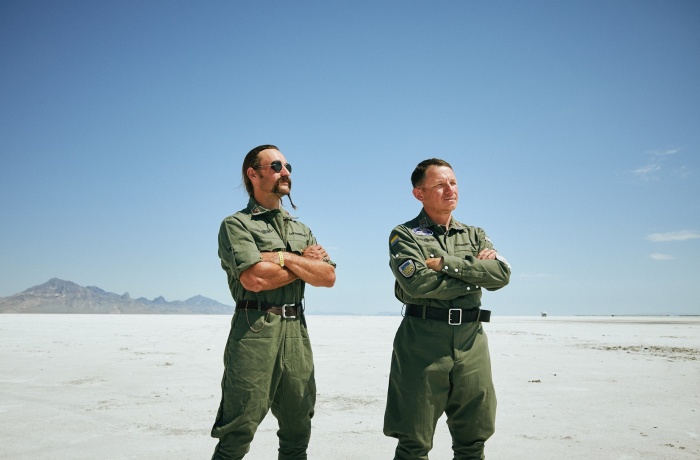 Two friends try to break the world speed record on a vintage Soviet bike at the Bonneville Salt Flats. It also turns out to be a real test of their friendship.
The story of this adventure drama is about Nazar and Max, two guys from Ukraine, and an old Soviet bike, and the ambitious goal they set themselves to beat the world speed record at the Bonneville Salt Flats in Utah, USA. This dry salt desert is the meeting point for hundreds of people from all over the world, who spend millions of dollars on their quest to become the next speed racing champion. Nazar and Max spend all their time assembling their bike in a small garage on the outskirts of Kyiv, traveling hundreds of miles and overcoming countless obstacles to make their dreams come true. And then, on the other side of the world, they both come to realise why there are there.
CREW:
Script: Dmytro Gorash
DOP: Denis Melnik, Serhii Stetsenko, Dmytro Gorash, Simon Mozgovyi
Sound: Beso Kacharava
Music: Zviad Mgebry, Luka Lebanidze
Editing: Sergii Naida, Simon Mozgovyi
Production:
Funding:
Total budget: €200000
Already engaged financial partners and funds: Ukrainian State Film Agency, Mainstream Pictures, Stewopol, Atlant Media Group, British Council Ukraine, Ukrainian Institute
Point of contact:
Festivals
OIFF - Work in Progress (2018) UA; B2B DOC Workshops - DOCUDAYS UA, Cinedoc Tbilisi, Tbilisi IFF (2018 - 2019); Visions du Reel - Docs in Progress (2019), CH; Beldocs IDFF - Docs in Progress - East Silver Caravan Award (2019); RS British Council Envision Sound workshop for composers (2019), UA; Ukrainian delegation at IDFA! (2019), NE; Ukrainian Doc Preview on DOCUDAYS UA – Ukrainian Institute PROmotion Award (2020) UA; P2P Event - Sunny Side of the Doc (2020), FR; Coming soon! Ukrainian Teasers - LISFF Wiz-Art (2020) UA;

18 Docudays UA – Special Mention DOCU/UKRAINE and Special Mention Student Jury Award.