In the forested depths of eastern Congo lies the Virunga National Park, one of the most bio-diverse places on Earth and home to the planet's last remaining mountain gorillas. In this wild but enchanted environment, a small and embattled team of park rangers – including an ex-child soldier turned ranger, a caretaker of orphan gorillas and a dedicated conservationist – protect this UNESCO world heritage site from armed militia, poachers and the dark forces struggling to control Congo's rich natural resources. When the newly-formed M23 rebel group declares war, a new conflict threatens the lives and stability of everyone and everything they've worked so hard to protect, with the filmmakers and the film's participants caught in the crossfire.
Production
Grain Media, Unit 1, Gladiator Works, Gladiator Street, London, UK, +44 20 8690 1010, www.grainmedia.co.uk; Violet Films,
[email protected]
Sales:
Grain Media, London, SE24 9AF, UK, +44 79 4658 2641, Joanna Natasegara
Awards
selected: 2015 – Nomination for Oscar for Best Documentary, Feature at Academy Awards, USA; 2015 – Nomination for Best Documentary at the BAFTA Awards; 2015 – Black Pearl Award for Best Documentary Feature at the Abu Dhabi Film Festival; 2014 - F:ACT Award - Honorable Mention at CPH:DOX; 2014 – Feature Documentary Award at the DOXA Documentary Film Festival; 2014 - Emerging International Filmmaker Award at the Hot Docs Canadian International Documentary Festival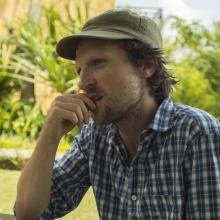 Director
Orlando von Einsiedel
Orlando von Einsiedel is a former pro-snowboarder who started the Londonbased TV and film production company Grain Media with a friend. Five years later the small company has taken off, with von Einsiedel's credits extending not only to documentaries, but also to music videos and promos for a number of bands and international brands. His documentaries have spanned Africa, Asia, Europe and the Arctic, won numerous awards, and encompassed everything from a gunwielding drug dealer in Peckham, London to the trafficking of young football players throughout Africa.
Selected Filmography
Selected: Skateistan: To Live and Skate Kabul (2010), The Forced Marriage Unit (2011), Radio Amina (2011), We Ride: The Story of Snowboarding (2013)