Like a bird, the Ukrainian flag flies along perched on the car of two affable 'sheriffs' appointed by the mayor of a village in southern Ukraine. There's a sly bum whose gift is not to work. There's a guy who puts an anaconda in his woman's shed. The Euromaidan arrives, and draft-dodgers abound. The townsfolk are dipping in icy water and laughing, but are they divided in their loyalty? These sheriffs are taking you along for the ride...
Production
VFS Films, Lapu street 17, Riga, Latvia, LV1002, +37167503588,
[email protected]
, www.vfs.lv
Sales:
Taskovski Films, 19-21 Christopher Street, London, EC2A 2B, UK, +447562977143,
[email protected]
¬lms.com, www.taskovski¬lms.com
Awards
2015 – Special Jury Award for Feature-Length Documentary at Amsterdam International Documentary Film Festival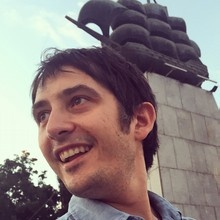 Director
Roman Bondarchuk
Roman Bondarchuk graduated from the Kyiv National Karpenko-Kary Theatre, Film, and Television University. His teacher was Yuriy Illenko, one of the founders of the school of Ukrainian Poetic Cinema. Roman has created a number of short films, documentaries, and music videos. He has written several pieces of fiction, and has participated in photography and contemporary art exhibitions. As a documentary director, he has collaborated with MDR, ZDF, Arte, and other TV channels. In 2015 he finished his first feature-length documentary, Ukrainian Sheriffs.
Selected Filmography
Selected: The Taxi Driver (2005), Radunytsia (2007), Café Voyage (2013), Euromaidan. Rough Cut (2014)