Year one at the Teddy McArdle Free School in Little Falls, New Jersey, where all classes are voluntary and rules are determined by democratic vote. Amanda is there from the beginning to the end of the school year, documenting and observing founder Alexander Khost, eleven-year-old Jiovanni, seven-year-old Lucy, along with an entire unforgettable cast of young personalities as they form relationships, explore their surroundings and debate rule violations, until it all comes to a head. The film is a vivid portrait of unfettered childhood and human relationships.
Production and Sales
Kingdom County Productions, 949 Somers Road, Barnet, VT 05821, USA, +18023574616,
[email protected]
, www.kingdomcounty.org
Awards
2015 – Best International Film at the DocAviv Film Festival; 2015 – Maysles Brothers Award at the Belfast Film Festival; 2014 – Emerging Cinematic Vision Award at the Camden International Film Festival;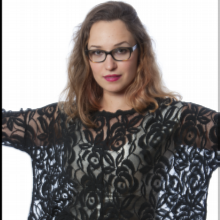 Director
Amanda Rose Wilder
Amanda Rose Wilder spent years writing poems, then in the hills of Vermont began making films, which led to her B.A. thesis 'The Poetic Documentary and the Documentary Poem', for which she created poetic documentaries and studied the works of American poets Marianne Moore, William Carlos Williams, Gary Snyder and Jorie Graham as they relate to the documentary impulse found in poetry. Approaching the Elephant is her first feature. She lives in New York where she is working on a film about art models.
Selected Filmography
Approaching the Elephant (2014)