In Petrila, a coal mining town in Transylvania (Romania), an ex-miner turned artist and activist uses art and absurdism to stop the local authorities from demolishing the historic buildings of the oldest coal mine in the country after its closure in 2015 at the EU's recommendation. His quest is not only to preserve the history and the identity of his hometown, but also to find new ways of keeping the community from irreversibly falling apart.
CREW:
Director: Andrei Dascalescu
Producer: Anamaria Antoci
Cinematographer: Andrei Dascalescu
Editor: Andrei Dascalescu, Mircea Olteanu, Stefan Pirlog
Sound: Dan-Stefan Rucareanu, Ioan Filip
Production and Sales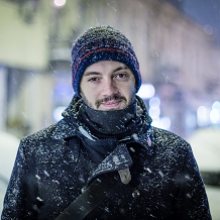 Director
Andrei Dascalescu
Andrei Dascalescu started as a radio DJ in his hometown during his teenage years. He then moved to Bucharest to study sound and editing at the Film University, at the same time working as a freelance editor and sound engineer for BBC as well as on many films, including Francis Ford Coppola's Youth Without Youth, as the assistant of the legendary editor Walter Murch. He moved on to make his own films with his award-winning short feature Fly, then made his documentary debut with Constantin and Elena.
Selected Filmography
Selected: Fly (2016), Constantin and Elena (2009)