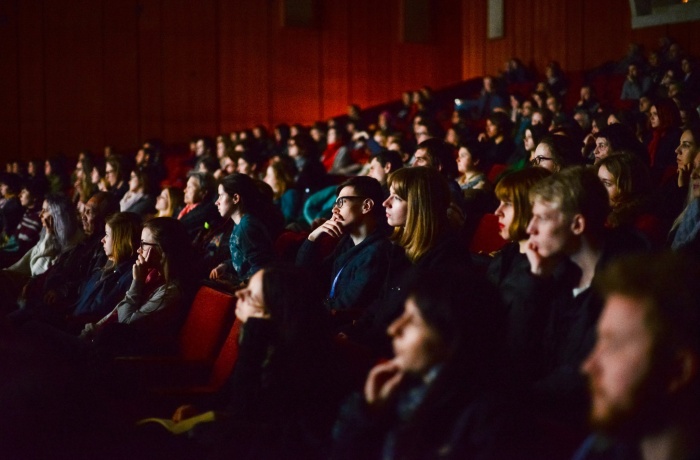 This year's Docudays UA is moving to Podil, and cinema theater "Zhovten" becomes the new festival center.
"We are changing the location to increase the quality of the festival screenings", says the festival's art director Roman Bondarchuk. "From now on, the viewers will be able to watch our movies with the quality of image and sound that was conceived and realized by their authors. Besides, we are witnessing the development process of the Podil district. Numerous places of interest are sprouting there, including hubs, creative spaces, coffee shops, art galleries and initiatives. We are currently working on the intense program of events at these new locations".
Nevertheless, the Docudays UA team does not withdraw from the future fate of the Cinema House, which has been the main location of the largest national documentary event for many years. We are seeking to draw attention to the problems of Ukrainian cultural centers. These problems comprise the indifference of the government system towards the cultural facilities and inefficient management inside these facilities, which leads to poor technical equipment, lack of adaptation of the facilities for the people with disabilities, and commercialization of the urban public space. We want the Cinema House to function as a cinema center with a contemporary approach and a regular program, which would be sensitive to the urgent social issues. We would also like the building of the Cinema House to be reconstructed and recognized as an architectural landmark. However, in order to achieve this, it is necessary to redefine the present activity of the Cinema House comprehensively.
"Zhovten" cinema is one of the few public cultural institutions of the early 1930s, which has retained its initial purpose, regardless of the restructuring and changes in its appearance and planning. The first project of the cinema theater was created by Valerian Rykov, the renowned architect. The cinema was opened for public on October 29th, 1931. After the fire in 2014, the building was reconstructed. At present, it is one of the best cinema theaters in the capital, with six comfortable screening halls. The screenings of Ukrainian movies and foreign authors' films in the original language are the specialties of "Zhovten" programme.
The 15th Docudays UA will be taking place from 23rd till 30th of March. Keep up with the news. To be continued.