Ten years after the passing of his wife and partner Jeanne-Claude, Christo sets out to realise The Floating Piers, a project they conceived together many years before. Documented with uncensored access to Christo and his team, Walking on Water is a cinema vérité look into the process and personal relationships of the world's biggest installation artist.
CREW:
Director: Andrey Paounov
Producer: Izabella Tzenkova, Valeria Giampietro
Cinematographer: Martina Cocco, Pietro Daviddi, Simone D'Arcangelo, Antonio Ferrera, Snejina Latev, Anastas Petkov, Franco Piroli, Nevena Rashkova, Wedigo von Schultzendorff, Debora Vrizzi
Editor: Anastas Petkov, Andrey Paounov
Sound: Tom Paul
Production
Kotva Films, Ring Film
Sales:
Awards
2018 – Locarno IFF; Toronto IFF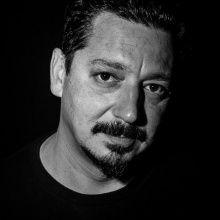 Director
Andrey Paounov
Andrey Paounov is a Bulgarian writer/director best known for his non-fiction films, including Georgi and the Butterflies (Silver Wolf winner, IDFA 2004), The Mosquito Problem and Other Stories (Cannes Critics' Week 2007) and The Boy Who Was King (premiered at Toronto International Film Festival). His films have screened at over 150 international film festivals and received more than 40 awards. He is currently in pre-production on his first narrative feature, January.
Selected Filmography
Georgi and the Butterflies (2004), The Mosquito Problem and Other Stories (2007), The Boy Who Was a King (2011), Walking on Water (2018)