Now Something Is Slowly Changing is a clear-cut, distinctly visual portrayal of the present-day coaching and training culture. Using only fixed, wide camera angles, the film investigates different forms of self-development and courses for inner growth and performance improvement. Without protagonists, interviews or voice-overs, the film observes, for instance, animal-assisted therapy sessions, a class in happiness for primary school children, a training session in dealing with tension and aggression for city law enforcement officers, and a vlogger trying to calm her stressed-out followers with gentle, relaxing sounds. It is left up to the spectator to decide whether these mindfulness-training programmes and coaching courses symbolise something bigger. Where did this search for self-improvement come from? Are we ever good enough?
CREW:
Director: Menna Laura Meijer
Producer: JeanMarc van Sambeek, Rosa Duvekot, Max Diezenberg
Cinematographer: David Spaans
Editor: Albert Markus Jr.
Sound: Gerben Kokmeijer
Production
Sales: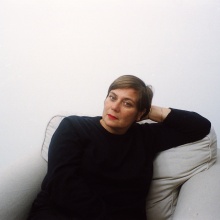 Director
mint film office
Menna Laura Meijer is self-taught and became a director by accident. While researching for an article on a group of graffiti boys in Rotterdam, the Netherlands, television producer Bob Visser suggested she wrote a documentary film plan instead of an article, and so she did. In 1997 Tags, her first film, premiered in Rotterdam at an illegal rave party which was shut down by police as the credits rolled. Her later films as Girls (2003), 69 Love Sex Senior (2013) and Now Something Is Slowly Changing (2018) still refer to Tags in style, use of music and editing. Even though Meijer began filming accidentally, she has been making acclaimed films ever since. Since the film Sex? Yes Please! in 2015 Meijer has stopped directing under her name, and she now uses the credit mint film office for her work.
Selected Filmography
Tags (1997), Girls (2003), 69 Love Sex Senior (2013), Now Something Is Slowly Changing (2018)