Brief stories from the Russian-Ukrainian war, collected by three volunteers who have been travelling along the frontline with humanitarian cargoes for more than four years. The life of Ukrainian soldiers on the firing line, conversations with the 'grey zone's inhabitants, military battles, jokes, funerals, road accidents, and shelling – all of these are combined into a journey to the world of war.
CREW:
Director: Serhiy Lysenko
Producer: Myroslav Hay, Constantin Mohilnik-Iskra, Serhiy Lysenko
Cinematographer: Serhiy Lysenko, Oleksiy Mykhaylenko, Myroslav Hay
Editor: Serhiy Lysenko
Sound: Borys Peter, Bohdan Baranovskykh
Production and Sales
Сергій Лисенко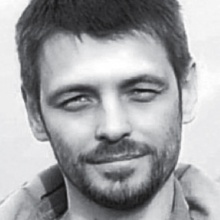 Director
Serhiy Lysenko
Serhiy Lysenko studied film directing at the Kyiv University of Theatre, Cinema, and Television. From 2005 until 2011 he worked as a director and screenwriter of television films. In 2012, he founded his own company and began making documentary films. At present, he works as a filmmaker and film editor.
Selected Filmography
Goat (2004), From Stool to Mongolia (2006), Thaw (2008), Trap (2009), Heartbeat (2011), Awakening (2011), Amosov – The Centennial (2013), Encyclopedia of Maidan (2015), Brothers in Arms (2018)