A contemporary Fayum portrait, magic of place and faces. For thirty years in the Carpathian village of Kryvorivnia a woman named Paraska Plytka-Horytsvit photographed people and the place where she lived. In 2015, some artists from Kyiv found a box with her negatives. This is a story about the mysterious connection between the present and the past, as reflected in the photo negatives discovered by chance.
CREW:
Director: Maksym Rudenko
Producer: Andriy Granytsia
Cinematographer: Maksym Rudenko
Editor: Petro Tsymbal
Sound: Oleg Golovyoshkin; Sviatoslav Luniov – composer
Production and Sales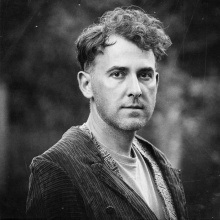 Director
Maksym Rudenko
Maksym Rudenko was born in Mykolayiv, Ukraine in 1975. He studied photography and visual arts at the Academy of Classical Photography. In 2009 he graduated from the School of Cinema and Television, where he studied Documentary Film Directing (in the workshop of Marina Razbiezhkina). He continued to study at the Gerasimov State Institute of Cinematography (VGIK, Russia), the Cinematography Department (class of Igor Klebanov), and graduated in 2015. After graduation he returned to Ukraine, and worked as a cinematographer in feature and documentary films. In 2016, he participated in the documentary workshop Młodzi o młodych (Youth about Youth).
Selected Filmography
Between the Wolf and the Dog (2008), Pickupper (2008), I Did What I Wanted (2008)