Our industry platform DOCU/PRO is quickly evolving, and this year, in addition to workshops and pitching, the festival program will include a Ukrainian Doc Preview - a presentation of selected Ukrainian projects at the rough cut stage or post-production stage for the programmers of the biggest festivals, sales agents and distributors, whom we specifically invited to participate in this event and where Ukrainian filmmakers will have an opportunity to meet them in person. Directors and coordinators of the industry platforms of international festivals shared their thoughts about why such presentations are useful for future films and how this Doc Preview format is implemented abroad.
Brigid O'Shea
Head of DOK Industry at Dok Leipzig
We started the DOK Preview Germany and Training slots a few years ago, as a reaction to the needs of the documentary industry. Being connected to festival programmers, buyers for television, sales agents and other professional multiplicators at the rough cut stage is very important for your distribution strategy.
We find that works-in-progress presentations are an ideal format to help films find their way in the international market as producers and filmmakers have excellent quality materials to show to these decision makers, so very concrete conversations and deals can take place at this delicate time. Also it is an important moment for a final feedback before picture lock, especially from professionals from outside your local context.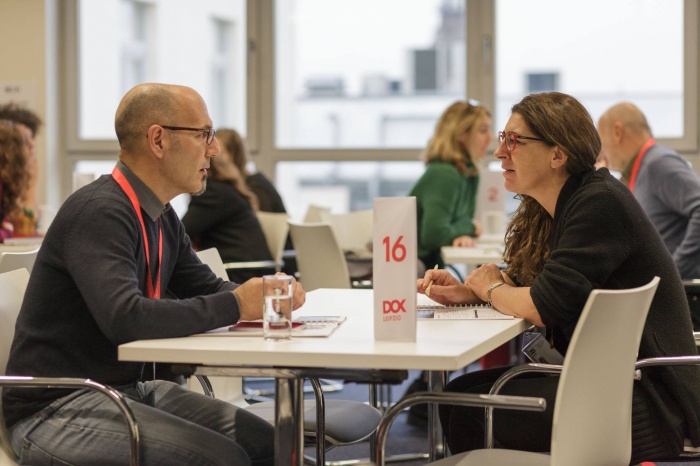 DOK Industry 2018 (photo: DOK Leipzig)
Adam Ślesicki
Head of DOC LAB POLAND at Krakow Film Festival
Hundreds and thousands of documentary films are made every year. This is why it is very important to let people know what are you working on before you finish your film. When you have it completed you may be lucky and sell it, find a sales agent or submit successfully to film festivals – but you have very limited time. But if you show your work in progress on pitchings – as we do on DOC LAB POLAND at Krakow Film Festival, if you attract the attention before and keep contact with those who were interested, you may significantly increase your chances. Keep in mind that festival programmers have to watch several hundreds of films every year during selection – I can imagine how the films mix in their minds with one another, how difficult it may be not to lose focus and be able to select the good ones. But if they remember your film from the presentation when they saw 10 not 100 projects, if they liked it – they may instinctively be interested how you managed to finish it.
The same situation is when you are looking for co-production partners. The easiest way is just to be there where they are looking for projects. A hundred emails and tens of trailers are worth less than one good presentation and the following conversation.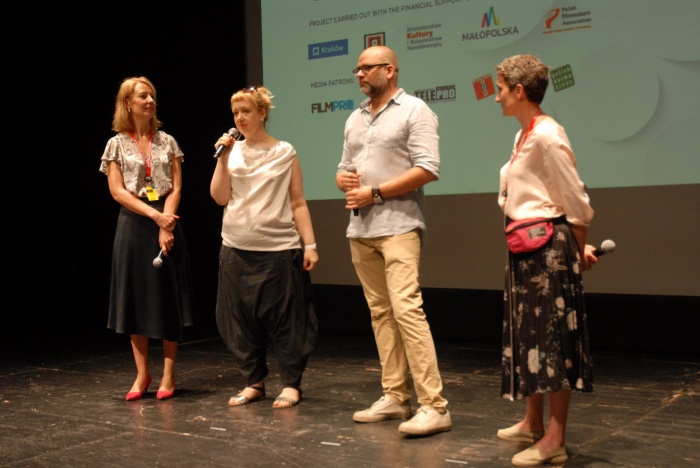 DOCS TO START 2018 at the DOC LAB POLAND. Welcome words from the organizers (photo: DOC LAB POLAND)
Creating DOC LAB POLAND we combined several stages: projects in development looking for co-production or co-financing; films in editing looking for distribution or festivals and International Co-production Market (here producers looking for new, interesting projects can also share their own and find partners for themselves). We strongly believe in discussion and personal meetings! Because the most important is the process of building relations that last longer.
Antigoni Papantoni
Industry Coordinator at the Visions du Réel
Docs in Progress is a very important moment in the prerelease of a film. Film teams present their final cut and launch it in the film network. The goal is to find cofinancers for post-production and partners for the promotion of the film, distribution, sales and festivals.
Visions du Réel's Industry gathers many important decision-makers of the documentary Industry and thus is an ideal place for this kind of activities. Decision-makers travel in festivals and markets in order to get to know film projects early enough to engage with and filmmakers create in advance this way the necessary space for their film.
Header photo: the pitching during Docudays UA 2017