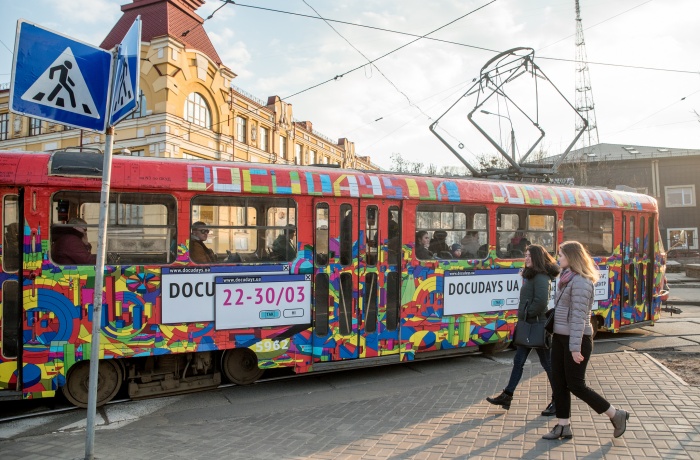 Only a few days are left until the Festival. We have prepared for you hit premieres, two Ukrainian film programs, VR Cinema and incredible guests and lecturers in the traditional DOCU/CLASS workshop and the powerful industry platform DOCU/PRO, an exclusive RIGHTS NOW! program and the special Change It! impact lab for activists and documentary filmmakers. We also prepared two days of pleasure for our audience, who will be able to watch festival films non stop on March 29 and 30!
The Zhovten Cinema (26 Kostiantynivska str.) will traditionally host the screenings of the festival winners and the films from the DOCU/BEST program, DOCU/ART program, the NETWORK program, and the Ukrainian films.
The Lira Cinema (40 Velyka Zhytomyrska str.) will be the cosy place to continue to watch the Ukrainian films from the DOCU/BEST program on the Audience Days. Also, for the first time, Docudays UA will have Audience Days and show films in cinemas in different Kyiv neighborhoods. On March 29 and 30, films will be screened in Boomer Cinema (4 M. Lavrukhina str.) and the Kyivkinofilm network (Kyivska Rus, Fakel, Dnipro, Leipzig, Taras Shevchenko Cinema). These cinemas will also screen the two Ukrainian films from the DOCU/BEST program and films from the DOCU/YOUTH program.
The intense festival week will take place at 15 locations this year. Welcome this year's Docudays UA from 22 till 30 March. Tickets are already available for purchase online.
Please note that on the audience days, on March 29 and 30, you can only use the benefits of festival passes and accreditation in Zhovten and Lira cinemas.
Credit photo: Docudays UA