The Earth Is Blue as an Orange is based on the observation of the family living in a small city in the 'red zone' of Donbas, one of the most severely damaged by shelling. 2014–15 were very difficult for this family. They slept in the cellar of their house every night. The house of their closest neighbours was destroyed by a mine. The children's school was ruined too. Despite all these circumstances, the protagonists remain positive and even try to shoot films about the war by themselves. The war in Ukraine still goes on, but so does life.
CREW:
Director: Iryna Tsilyk
Producer: Anna Kapustina, Giedrė Žickytė
Cinematographer: Viacheslav Tsvetkov
Editor: Ivan Bannikov, Iryna Tsilyk
Sound: Jonas Maksvytis
Production
Albatros Communicos, Moonmakers
Sales:
Awards
2020 – Sundance Film Festival, World Cinema Documentary Directing Award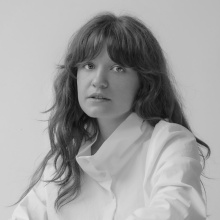 Director
Iryna Tsilyk
Iryna Tsilyk is a Ukrainian filmmaker and writer. She made the short fiction films Blue Hour (2008), Commemoration (2012), Home (2016), as well as two documentaries for the Invisible Battalion film collection about women at war (2017). The Earth Is Blue as an Orange is her debut feature-length documentary. Moreover, Tsilyk is the author of eight books published in Ukraine (which include poetry, prose, and children's books).
Selected Filmography
Blue Hour (2008), Commemoration (2012), Home (2016), The Earth Is Blue as an Orange (2020)