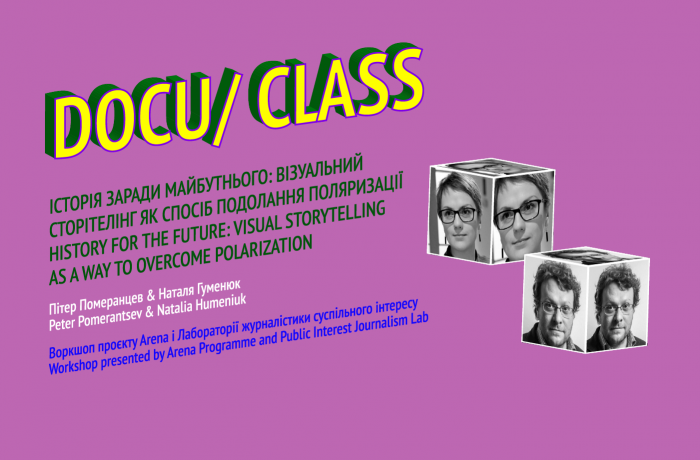 One way of testing the maturity of a society is to examine its understanding of history. This process often gives rise to prolonged disputes and conflicts around the events and figures of the past. Historical themes repeatedly become ground for speculation. Given all this, is it possible to untie the knots of social misunderstanding? What will help create a platform for fruitful discussions instead of dead-end fights? Why does the under-considered history of the period of the USSR's collapse and the first years of independence have such special potential for Ukrainian documentary filmmakers?
In their research projects, the Arena Programme (John Hopkins University and the London School of Economics) and the Public Interest Research Lab present visual storytelling as a way of overcoming this social polarisation. During the presentation, Peter Pomerantsev and Natalia Gumenyuk will talk about the research into the Ukrainian people's reaction to the historical events in their country and the wider world,
From Memory Wars to a Common Future: Overcoming Polarisation in Ukraine
, as well as the possibilities which visual storytelling opens in this context, particularly in the year of the 30th anniversary of independence.
Nataliya Humenyuk
Beyond East and West research project run by Hromadske and the LSE, which studies Ukrainians' attitudes towards history. She specialises in international politics and conflicts. As a reporter, she has worked in more than 60 countries around the world. Author of the books The Lost Island: Reports from Occupied Crimea (2020) and Maydan Tahrir. In Search of the Lost Revolution (2015) about the events of the Arab Spring. Since the Revolution of Dignity and the outbreak of war, she has been reporting on events in Donbas and Crimea.
Peter Pomerantsev is a visiting senior fellow at the Arena Programme of the John Hopkins University (USA), an author and TV producer. Specialising in propaganda and media development, he has reported on the challenges of information warfare to the US House Committee on Foreign Affairs, the US Senate Committee on Foreign Relations, and the UK Parliament's National Security Committee. Pomerantsev has written for the Financial Times, the London Review of Books, Politico, the Atlantic and many others. In 2016, his book on Russian propaganda Nothing Is True and Everything is Possible received the Ondaatje Prize from the Royal Society of Literature, and has since been translated into more than ten languages. In 2020, his second book This Is Not Propaganda: Adventures in the War Against Reality, which has also been translated into Ukrainian, received the Gordon Burn Prize.