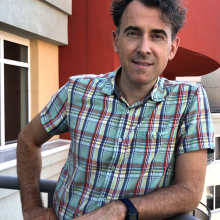 Education
School of Cinema and Television
Biography
Max Rudenko was born in Mykolaiv, Ukraine. He graduated from the School of Cinema and Television in 2009, where he studied documentary film directing (the class of Marina Razbezhkina) and feature film directing (the class of Vladimir Fenchenko). He continued his studies at the Gerasimov State Institute of Cinematography (VGIK) at the Cinematography Department (the class of Igor Klebanov) and graduated in 2015.

He lives in Ukraine and works as a documentary filmmaker, cinematographer and producer. In 2020, he formed an independent production company PARADOX FILM, based in Ukraine and focused on the production of documentaries.

Filmography:
2019 — "A Portrait on the Background of Mountains", 85 min;
2008 — "Between the Wolf and the Dog", documentary, 20 min;
2008 — "I Did What I Wanted", documentary, 20 min;
2008 — "Pickuper", documentary, 15 min.
SELECTED FILMOGRAPHY:
Elevation
(2022,&nbspdirector, producer, point of contact)
Company: