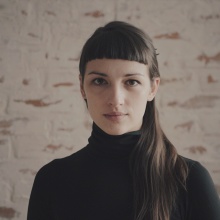 Education
Ulyana Osovska graduated in International economics from Kyiv National Economic University.
Biography
In 2014 she co-founded the Docutoloka company. Ulyana debuted as a director in 2015 with the short documentary
Election Agent
. Her full-length documentary debut
Almost 10,000 Voters
had its world premiere at the 33rd Warsaw Film Festival and entered the competition of the 2018 Docudays UA (2017).
SELECTED FILMOGRAPHY:
Tales of a Toy Horse
(2021,&nbspdirector, producer), Election Agent (2015, director), Almost 10,000 Voters (2017, director), Lifelong Songs (2019, director)