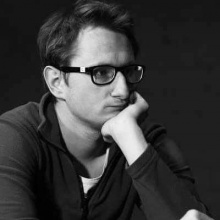 Biography
Korney Gritsyuk is a Ukrainian film director and screenwriter. He has been working in the film industry since 2011. He made several short films; some of them participated in international film festivals and were awarded prizes. Korney has also worked with commercials and social videos for businesses and NGOs.

In 2016-2018, Korney worked on his independent feature debut film 2020#desertedcountry. It is a mockumentary about how all Ukrainians have left their country. The film was presented at Molodist IFF in May 2018 in Kyiv and then shown in Germany, USA, Czech Republic, Sweden. Now Korney is working on his new film, the documentary Train: Kyiv-War. This film is about passengers on a night train that connects Kyiv and the war zone in Donbas. The premiere is planned for Spring 2020.

Filmography:
2020 – Train Kyiv-War, feature-length documentary, Ukraine;
2018 – 2020#desertedcountry, feature-length mockumentary, Ukraine;
2015 – Transformer, short feature, Ukraine;
2014 – Cinephilia, video art, short, Ukraine;
2014 – Hippodrome, short feature, Ukraine.
Participation in film(s):
Company(ies):