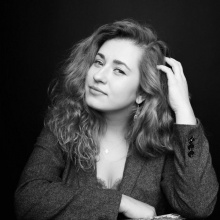 Education
Kyiv National University of Theatre, Cinema and Television
Biography
Anna Korzh is a documentary filmmaker. She graduated from the Kyiv National University of Theatre, Cinema and Television's Department of Television with a Master's degree in 2016. Anna then attended the Interdoc masterclass at the Interaction 2016 summer school in Serbia.

As a director, Anna has already made five documentary films highlighting important but neglected social issues and participated in more than twenty international film festivals around the world. She is one of the curators of the documentary program at the Contemporary Ukrainian Cinema nonprofit and coordinates several film festivals in Ukraine.

Since 2017, she has worked as a volunteer and organized social projects and film schools for teenagers from frontline conflict zones in Eastern Ukraine. She recently participated in the American Film Showcase workshop at the University of Southern California (USC) in Los Angeles as part of her ongoing role as the director of DakhaBrakha: On the Road, a feature-length music documentary.

Filmography:
DakhaBrakha: On the Road (90', 2022)
The View from the Window (18', 2019)
Always There (Ukraine, USA, 24', 2018)
Coda (Ukraine, 15', 2017)
The Roots (Ukraine, Serbia, 15', 2016)
Home (Ukraine, 15', 2015).
SELECTED FILMOGRAPHY:
Company: