3D printing is changing the world – from printing guns and human organs to dismantling the world's industrial infrastructure by enabling home manufacturing. It's 'the next Industrial Revolution.' With unprecedented access to the visionaries building the industry, the film follows the people and companies racing to bring 3D printing to your desktop and into your life. For the winners, there are fortunes – and history – to be made. It is both the definitive 3D printing documentary and a compelling tale about what it takes to live the American Dream in any field.
Production
Firefly Theater & Films, +13236393454,
[email protected]
, Steven Klein, www.fireflyinc.com
Sales:
Netflix, 100 Winchester Circle, Los Gatos, CA 95032, USA, +13109758931,
[email protected]
, Don Halcombe
Awards
2014 – Special Jury Award at the SXSW Film Festival 2014 – Karen Schmeer Award at IFF Boston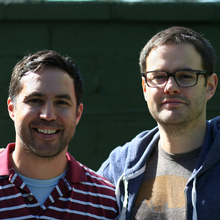 Director
Luis Lopez, J. Clay Tweel
Luis Lopez hails from Tijuana, Mexico and loves tacos.
J. Clay Tweel is from Charlottesville, Virginia and loves whiskey.
Selected Filmography
Luis Lopez: Squirt (2002), Chevolution (2008)
J. Clay Tweel, selected: Make Believe (2010), Finders Keepers (2015), The Gleason Project (2016)