In the Mexican state of Michoacán, Dr. Jose Mireles, a small-town physician known as 'El Doctor', leads the Autodefensas, a citizen uprising against the violent Knights Templar drug cartel that has wreaked havoc on the region for years. Meanwhile, in Arizona's Altar Valley – a narrow, 52-mile-long desert corridor known as Cocaine Alley – Tim 'Nailer' Foley, an American veteran, heads a small paramilitary group called Arizona Border Recon, whose goal is to stop Mexico's drug wars from seeping across the USA border.
Production
Our Time Projects, info@ourtimeprojects.com; The Documentary Group, 125 West End Avenue, Fourth Floor, New York, NY 10023, USA, +12124565850, info@thedocumentarygroup.com
Sales
The Orchard, 23 E. 4th St., 3rd Fl., New York, NY 10003, USA, communications@theorchard.com, www.theorchard.com
Awards
2016 – Academy Award Nominee for Best Documentary Feature; 2016 – BAFTA Nominee for Best Documentary; 2015 – Outstanding Directorial Achievement in Documentary by Directors Guild of America, USA; 2015 – Special Grand Jury Prize for Cinematography at Sundance Film Festival;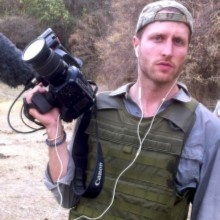 Director
Matthew Heineman
Matthew Heineman is an Emmy-nominated filmmaker based in New York. His Escape Fire: The Fight to Rescue American Healthcare was premiered at Sundance 2012, won numerous festival awards, and earned an Emmy nomination. He previously collaborated for two years with a team at HBO on the groundbreaking, Emmy-nominated HBO series, The Alzheimer's Project, which aired in May 2009. He also directed and produced Our Time – a feature-length documentary about what it's like to be young in today's America. Heineman has directed several short films and commercials and is currently developing a few different projects.
Selected Filmography
Overcoming the Storm (2006), Our Time (2009), Escape Fire: The Fight to Rescue American Healthcare (2012)