1 village, 1000 tractors, 100,000 tons of cabbages & potatoes each year - which are hardly ever sold, and eventually destroyed. Is there any way out? In the Romanian village of Lunguletu, 1000 farmers on their tractors sit on 100,000 tons of cabbage in the local market, waiting for customers. At the end of the day they either sell their crops for nothing or destroy them. Intrigued at the idea of getting a ton of cabbage for just 20 euros, the townie Șerban decides to spend one year in the village and work the land, to see why these people have fallen into this deadlock, and whether there is any way out. The Mayor and some villagers have ideas and possible solutions. But can they overcome the farmers' mistrust of each other, their fear of a 'collective farm' and the powerful urge to compete? A satire of current realities in agricultural Europe narrated by the director himself, the film tells, from the inside and in a self-ironic tone, the story of a village that got stuck between the past and the present.
CREW:
Director: Șerban Georgescu
Producer: Alex Iordăchescu
Cinematographer: Bogdan Slăvescu
Editor: Șerban Georgescu
Sound: Alex Iosub
Production
Elefant Film in co-production with Kolectiv Film and Ma.ja.de. Filmproduktion in collaboration with MDR/ARTE and RTV
Sales:
Deckert Distribution, Gottschedstr. 18 04109 Leipzig, Germany.Phone: +49. 341.2156638, e-mail:
[email protected]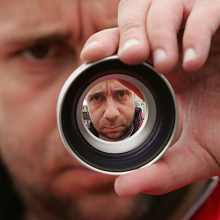 Director
Șerban Georgescu
Șerban Georgescu has more than 20 years of experience in documentaries and advertising as an editor, producer and director. His personal projects include his coverage as cameraman and director of the documentary Everest, the Călătorpe Viaţ, adventure and culture TV series that he filmed and directed himself, and others. For the past 6 years, he has teamed up with Norwegian director and producer David Kinsella for several international award-winning documentaries.
Selected Filmography
Selected: Everest (2003), Lapus County – Carved Destinies (2010), A Traveller for Life (2009-2011), Wanders of Cooking (2011), Sense (2014).