The 24 Frames project was born from an interrogation that was both artistic and metaphysical: what happens in the moments before and after a photograph is taken? What imaginary hereafter does an image conceal? In order to answer such questions, Abbas Kiarostami invented a remarkable technical device: he selected twenty photographs from his personal collection, which he then animated and staged. Using digital tools, discreet 3D inserts and green screens, he resurrected those images of the past and tried to rediscover the emotions he felt when taking them. Made over three years with a crew of Iranian technicians, 24 Frames will remain as the final work of its creator, who died in Paris on 4 July 2016 at the age of 76. It is the rare and invaluable legacy of one of the most important film makers in the history of contemporary cinema.
CREW:
Director: Abbas Kiarostami
Producer: Ahmad Kiarostami, Charles Gillibert
Sound: Ensieh Maleki
Production
Abbas Kiarostami Productions, CG Cinéma
Sales:
Awards
2017 – Asia Pacific Screen Awards, Artistic Acknowledgement; 2018 – International Cinephile Society Awards, ICS Award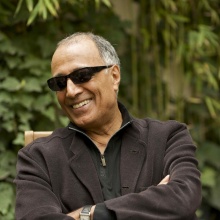 Director
Abbas Kiarostami
Abbas Kiarostami (1940 –2016) was an Iranian film director, screenwriter, photographer and film producer; he had been involved in over forty films, including shorts and documentaries. He attained critical acclaim for directing Close-Up (1990), Taste of Cherry (Palme d'Or at the Cannes Film Festival, 1997) and The Wind Will Carry Us (1999). His later works include Certified Copy (2010) and Like Someone in Love (2012).
Selected Filmography
Close-Up (1990), Taste of Cherry (1997), The Wind Will Carry Us (1999), Like Someone in Love (2012)