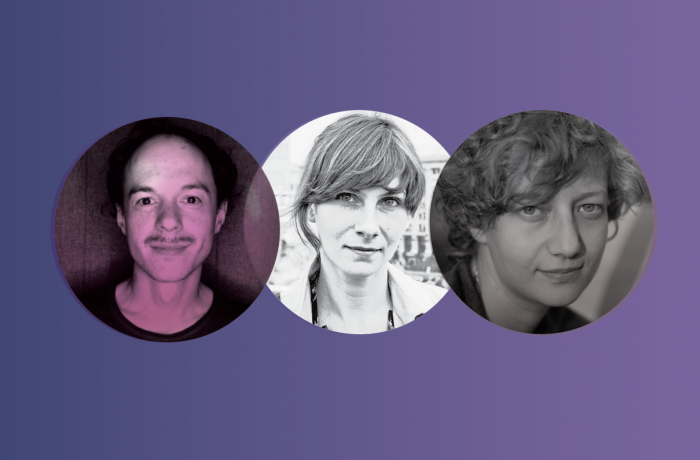 The Building by Tatjana Kononenko and Matilda Mester is a poetic film about Derzhprom, the House of State Industry. Documentary observation of the iconic constructivist building in Kharkiv becomes a reflection on how the past and the present, movement and time are interwoven with the stasis of architecture, how space and ideology interact. Film directors Tatjana Kononenko, Matilda Mester and film scholar, filmmaker Oleksandr Teliuk will discuss current attitudes towards the Soviet culture and proper methods of work with the Soviet narratives today as well as the conflict between micro-history and 'great' history of the past.
Tatjana Kononenko, born 1980 in Kirovograd, Ukraine, lives and works between Berlin and Tbilisi. She studied Media and Communication in Berlin and Film Directing at the German Film and Television Academy (dffb). She has been working with video and photography on projects often dealing with the issues of memory and history. The Building is her graduation film from the German Film and Television Academy and her feature-length debut. It takes part in the DOCU/UKRAINE national competition.
Oleksandr Teliuk is a film scholar and director of the film archive at the Oleksandr Dovzhenko National Centre. He is a programme coordinator of retrospective screenings at the Dovzhenko Centre as well as different Ukrainian and international film festivals. He co-founded Cineticle, an online journal on auteur cinema, and wrote many articles on film and culture that were published in printed and online media. As a filmmaker (under the pseudonym Elias Parvulesco) he works on documentary and experimental films. His film zong is part of this year's DOCU/SHORT competition.
Matilda Mester is a director and cinematographer who graduated from the German Film and Television Academy (dffb). She currently lives in Copenhagen and works in the field of art film, experimental and documentary film. Her work as a cinematographer has been shown at several international festivals and art exhibitions. The Building is her first feature film as a director.