When I got to Rignano, the ghetto residents told me: "You mustn't keep any trace of our lives here in these precarious houses. This despair is not yours to display." The misery in the ghetto is the first thing that struck me, the first thing I wanted to show.
CREW:
Director: Mathieu Volpe
Producer: Serge Kestemont, Olivier Burlet
Cinematographer: Mathieu Volpe
Editor: Pauline Piris-Nury
Sound: Jean-Noël Boissé
Production
Luna blue film, Gsara asbl
Sales:
Gsara asbl
Awards
2019 – Festival Signes de Nuit, Best Short Film; Retro Avant Garde Film Festival, Best Retro Short Film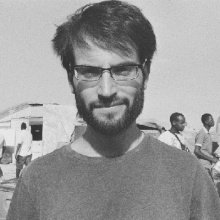 Director
Mathieu Volpe
Mathieu Volpe was born in Rome in 1990 and lived in Bari, in the very south of Italy, until he was nineteen. In 2009 he moved to Brussels to study directing at the Institut des arts de diffusion in Louvain-la-Neuve. His graduation film, Il segreto del serpente (2014), has been selected by several international festivals such as the Torino Film Festival, Filmer à tout prix, Lussas and Huesca.
Selected Filmography
Il segreto del serpente (2014), Our Territory (2019)