Of Animals and Men is a creative documentary about what happened in Warsaw Zoo before and during the Second World War. The film's main characters are Jan Żabiński, the zoo's creator and director for many years, and his wife Antonina Żabińska. In wartime, they offered refuge to the Jews and Polish resistance fighters by hiding them in the desolate zoo, in their own house and the empty back rooms of animal pens. In total, they managed to shelter about three hundred people. The secret guests used to stay in the zoo from a few days to many months.
CREW:
Director: Łukasz Czajka
Producer: Anna Wereda
Cinematographer: Kacper Czubak
Editor: Jakub Piątek
Sound: Marcin Lenarczyk
Production
Autograf Karol Wożbiński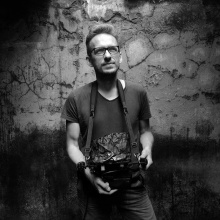 Director
Łukasz Czajka
Łukasz Czajka is a film director, game designer and TV reporter. He graduated from the Faculty of Political Sciences and the Centre for Latin American Studies at the University of Warsaw, as well as the Dok Pro documentary programme at the Wajda School. Of Animals and Men is his debut film.
Selected Filmography
Of Animals and Men (2019)