We have asked Oksana Karpovych to tell us more about her film Don't Worry, the Doors Will Open that takes part in the DOCU/UKRAINE national competition this year.
What inspired you to make your film?
In the 1990s, suburban electric trains were a significant component of reality and the main means of transportation for my parents, just like the majority of ordinary Ukrainian workers in the regions. These trains have left strong tactile and audial memories which started to come to the surface after I moved abroad. A suburban train attracts me with its wretchedness and beauty at once; it's a space of many contradictions and a bundle of absurdity which fills our daily life in Ukraine. Strangely enough, when I was far from home, it became interesting and valuable for me to understand my post-Soviet identity and the identity of my country.
How long did it take for you to create the film?
I started to work with suburban trains in 2016, back when I didn't even understand that this idea may grow into a film. The same year, I unexpectedly (even to myself) found a producer. In 2017, I spent two months riding suburban trains, talking to people and collecting various materials. The main shooting took place in the summer of 2018, the editing and post-production took another year.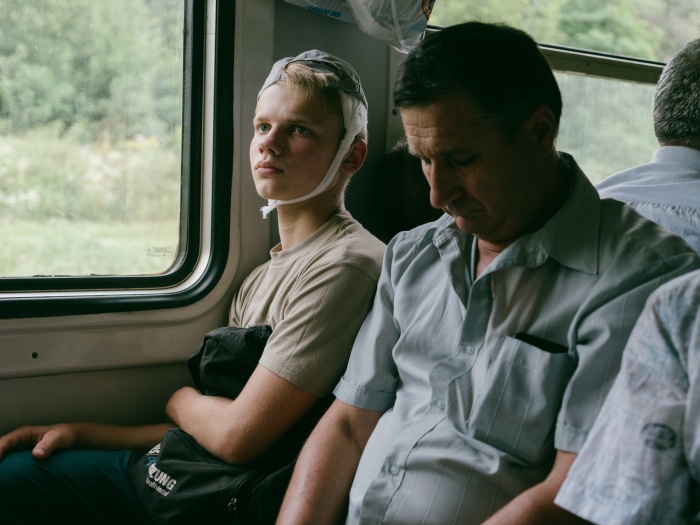 A still from Don't Worry, the Door Will Open
How did the work on your film go?
It was quite fun. The same people who, at the beginning of the process, tried to send me and my camera to the remote and unpleasant Mordor, later laid out a makeshift table on the train benches to honor my arrival, with sandwiches and brandy. In all these four years, the most difficult thing was to just continue to believe that my work has a meaning.
What can make the audience love your film?
Its non-judgemental, understanding view of the society and reality which is often unfair and harsh. Its love and respect for the human being who doesn't lose their dignity and self-irony when all the possible conditions have been created to make them lose it. Its attentiveness and intimacy in the portrayal of it all.
This is your first feature. What would your advice be for the future filmmakers who are also going to try and follow the same path as you?
Enjoy the process, because it can become unexpectedly long. Today, constant productivity is inevitably seen as the sign of success. But I recommend that you don't be in a hurry: perseverance is a rare and valuable quality. Work with people for whom the project means something more than work, and who trust you. These people will support you when it seems that everything is hopeless.
The interview was held by Alex Malyshenko.
We are starting a club for fans of documentary films who love them as much as our Festival team does. To join the club and support Docudays UA please follow the link.