We have asked Tatjana Kononenko to tell us more about her film The Building (co-directed with Matilda Mester) that takes part in the DOCU/UKRAINE national competition this year.
What inspired you to make your film?
A trip to Kharkiv and Andrey Bely's novel Petersburg.
How long did it take for you to create the film?
At first, the film was conceived as a 45-minute-long educational film. The shooting was done in 2012-2013, we read some books, conducted discussions and interviews, we worked in various archives: in Kyiv, Kharkiv, Moscow, Paris. We realized that 45 minutes would not be enough.
Meanwhile, we worked on other films, moved house, there was Maidan, children were born… In the summer of 2018, Matilda and I sat at the editing desk again, working from different cities. In the autumn of 2019, the film was finished as a thesis work.
How did the work on your film go?
We didn't want to give our own concept of the world; instead, we were open to what would come to us. From the very beginning, we decided not to construct one linear story; instead, we saw ourselves as "patchworkers" (in Walter Benjamin's terms) who collect fragments of memory, sew them together into one heterogenous fabric both in terms of structure and in terms of message. It was important for us to have different perspectives at the building at the level of time and matter. All the people who have participated in the film decided to become a part of it on their own. Another important moment is reflected here: this work was collective, we didn't have the "director, cinematographer, assistant" hierarchy.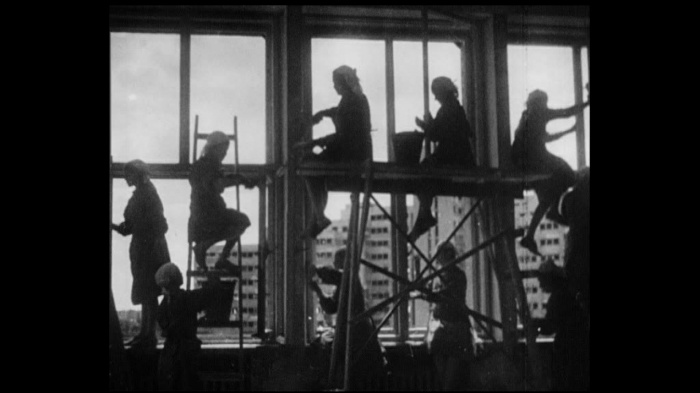 A still from The Building
What can make the audience love your film?
In cinema, love is even more complicated than in real life. We think of it as an act of free expression of our emotions, but cinema is this crafty manipulative thing. And what it manipulates are emotions. I hope the film will find its audience who, just like me, like to watch faces, gestures, movements, light and the flow of life. Who like when the right to interpretation is left to them, and who are prepared to see, in the space of the film, more questions than answers about what we call reality.
This is your first feature. What would your advice be for the future filmmakers who are also going to try and follow the same path as you?
Last year, I met Cristi Puiu (the author of the films The Death of Mr. Lazarescu, Sieranevada and others. Ed.). His films really resonate with me, but I didn't expect their director to be such an incredible person. He commented with outrage that all the films he watched were not cinema but some kind of propaganda. I also felt that. In film schools, they teach you how to technically imitate the feeling of reality, but rarely do they teach that truth and reality are complex concepts, and cinematic thinking is primarily concerned with the construct of "reality." That is why I probably can only give the advice which I keep repeating to myself: don't get tempted by pretty pictures and don't hide behind technically perfect films. Film is not about the beauty of reflection.
The interview was held by Alex Malyshenko.
Main photo: Arnaud Lumet
We are starting a club for fans of documentary films who love them as much as our Festival team does. To join the club and support Docudays UA please follow the link.