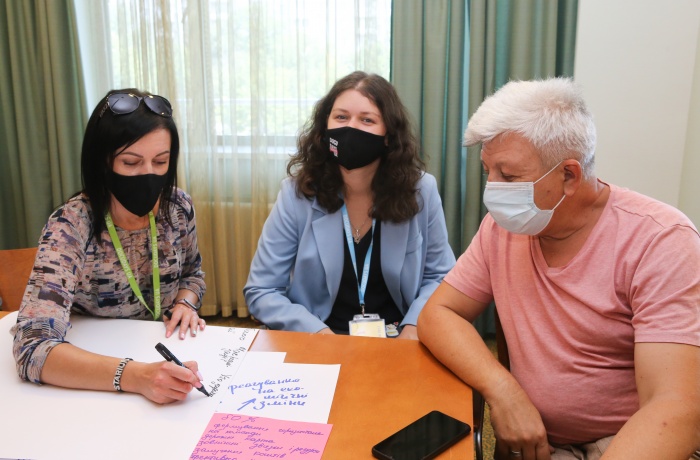 In mid-August, on the eve of the Travelling Docudays UA International Human Rights Documentary Film Festival, which is a traditional continuation of the Docudays UA Festival which takes place in March, the regional coordinators and the management team of the NGO Docudays gathered to hold joint strategic planning and a workshop. This year, the Travelling Festival will start in September for the second time and will be held in a combined format involving both online platforms and public spaces.
During the three days of the strategic session, participants analyzed what was implemented, predicted next year's trends, shared experiences of holding online events, planned educational events and film screenings, shared their ideas for developing the cultural project the Travelling Docudays UA. And during the annual seminar sessions, they explored the implementation of gender approach in the event organization and the importance of adhering to the principles of integrity, learned how to indicate hate speech, planned events in the online cinema DOCUSPACE, learned about the human rights campaign "Together for a safe delivery!", innovations in monitoring events and, of course, watched films.
Now the Travelling Festival Network includes 43 leading public organizations operating in 21 regions of Ukraine. We remind you that Travelling Docudays UA will last until the end of December.
This year the audience from the most remote villages and towns will have the opportunity to see the best current documentaries from Ukraine and the world and will be able to communicate with famous human rights activists, representatives of cultural sectors, and artists even during the quarantine and pandemic.
The schedule of online and offline events will soon appear on the site of the Travelling Docudays UA. Stay tuned.
Photos: Olexander Korniakov