In April and May, we continued working on fundraising and communication with the festival's international partners and friends to support Ukrainian filmmakers with essential technical equipment and protection equipment, as well as to form and manage a separate NGO Docudays initiative to support filmmakers.
Here is a report on the results of the past two months of the initiative's work.
In our first field of work, thanks to the support of our foreign colleagues from Germany and Czech Republic, we were able to supply documentary filmmakers with technical equipment.
We continue working with producers from Germany who have launched the Archive of War initiative. As a reminder, this project was created by Tanja Georgieva-Waldhauer, Christian Beetz and Mark Bauder in collaboration with Produzentenverband, AG DOK, Deutsche Filmakademie, Deutsche Akademie für Fernsehen, Crew United and Filmmakers for Ukraine.
Thanks to the Prague Civil Society Centre, we were also able to purchase technical equipment.
In addition, we have received protective equipment. This includes 10 helmets from Croatian Film Directors Guild. Special thanks for helping with this goes to Hrvoje Hribar, Executive Board member of FERA (Federation of European Screen Directors); Danilo Šerbedžija, Chair of DHFR; Klemen Dvornik, Chair of FERA. We also received 12 bulletproof vests from the Institute for War and Peace Reporting, Front Line Defenders, N-ost and International Media Support; as well as 17 helmets from the Institute for War and Peace Reporting and Reporters Without Borders. Special thanks for this to our colleagues from the Institute of Mass Information, Oksana Romaniuk and Iryna Chulivska.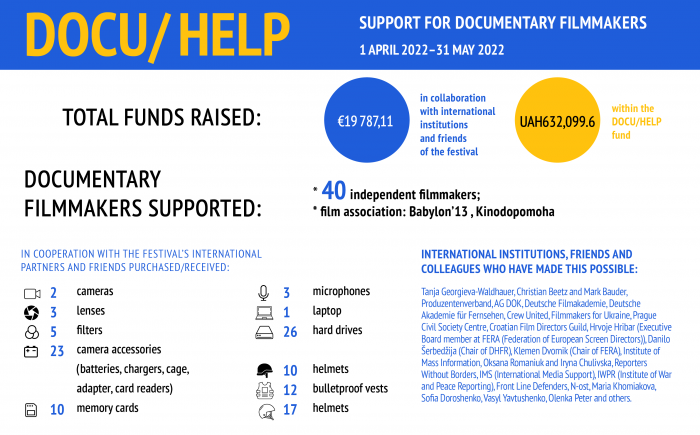 In our second field of work and collecting donations to NGO Docudays accounts, we were also able to help documentary filmmakers in the following areas:
fuel costs (one-time payments of up to 4,000 UAH);
costs of purchasing equipment which can be bought quickly in Ukraine.
Between 1 April and 31 May, we received donations in the amount of 632,099.60 when converted to UAH. Of this, the following was spent on help in April and May:
157,245.03 UAH: support for documentary filmmakers;
20,714.11 UAH: manufacturing black plate carriers (25 items);
7,135 UAH: creating video materials and their DCP copies, printing leaflets for the presentation of Ukrainian documentary projects UKRAINIAN SHOWCASE @ Cannes Docs, which was held on 21 May at Marché du Film as a part of Cannes Docs;
1,600 euros: accommodation costs for the delegation of participants from Ukrainian documentary projects in UKRAINIAN SHOWCASE @ Cannes Docs;
40,801.58 UAH: administrative (bank) fees and project costs.
In general, within this field in April and May, we supported 40 independent filmmakers as well as documentary filmmakers from film associations such as Babylon'13 and Kinodopomoha, whose crews continue filming all over Ukraine every day.

We continue working on covering requests from applications which were submitted in May and which we are still receiving in June. You can apply for help by filling out a form at this link. Requests are processed on a first-come-first-served basis.
We thank everyone who supports DOCU/HELP and the film community in Ukraine. Share a link to information about the initiative so that more people could support the fundraising for its needs.