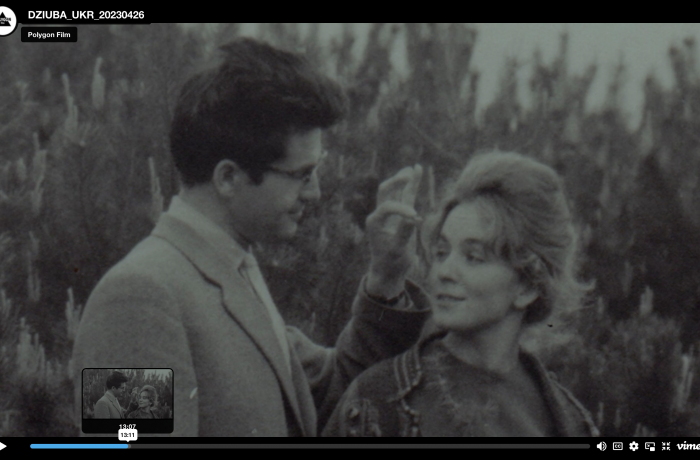 Work on filming the story of Ivan and Marta Dziubas started in the autumn of 2018.
Ivan Dziuba was born in 1931 in Donbas. The scientist, literary researcher, essayist and writer, a prominent figure from the generation of the 1960s, was the first to publicly accuse the Communist regime of the persecution and arrests of Ukrainian intellectuals, such as writers, scientists, artists, composers. He delivered his speech during the premiere of the film Shadows of Forgotten Ancestors on 4 September 1965. His work Internationalism or Russification was deemed anti-Soviet by the authorities. Dziuba was then arrested and spent a year and a half in the KGB's pre-trial detention.
Marta Dziuba, Ivan's wife, was born in Lviv. They lived a long life, full of dramatic events, but they were happy. Marta became his Guardian Angel and dedicated herself to him.
We listen to their story from Marta's mouth, but we only see Ivan in short appearances…
The counterpoint of the film is Ivan Mykhailovych's 90th birthday when his loved ones gathered together to celebrate his life.
In a cruel twist of fate, Ivan Dziuba never got to see our film. He passed away a day before the russian invasion of the territory of Ukraine.
The prominent Italian composer Sandro di Stefano has participated in our work on the film as a sign of solidarity with Ukraine.
CREW:
Director: Serhii Bukovskyi
Producer: Oksana Ivaniuk (IQ production)
Cinematographer: Roman Yelenskyi
Sound: Ihor Barba, Andriy Rohachov
Production
IQ Production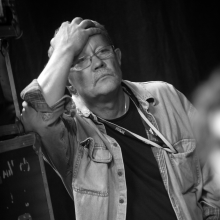 Director
Serhii Bukovskyi
Serhii Bukovskyi was born in 1960 in Bashkiria, an autonomous republic of the former Soviet Union. His father was the film director Anatoliy Bukovsky, and his mother the movie actress Nina Antonova. Since his childhood he has lived in Kyiv. He graduated in directing from the Film Department of the Karpenko-Karyi Kyiv State Institute of Fine Arts. After serving in the Soviet army, he worked at the Ukrainian Documentary Film Studio for more than a decade.
During his 40-year film career, Serhii made more than 30 films. Some of them were entered in official competitions and received awards from prestigious international film festivals in Leipzig, Nyon, Amsterdam, Krakow and New York.
From 1998 to 2003 he worked as a leading instructor in documentary directing at the Karpenko-Karyi Kyiv State University of Theatre, Film, and TV.
In 2014 Bukovskyi and his wife, Victoria Bondar, the script writer and story editor, established the Sergey Bukovsky Film Program as a postgraduate program for young filmmakers, where he is a leading instructor.
Selected Filmography
V. Silvestrov
(2020),
The Leading Role
(2016),
The Living
(2008),
Spell Your Name
(2006),
War. Ukrainian Account
(2002–2003),
The Roof
(1989)