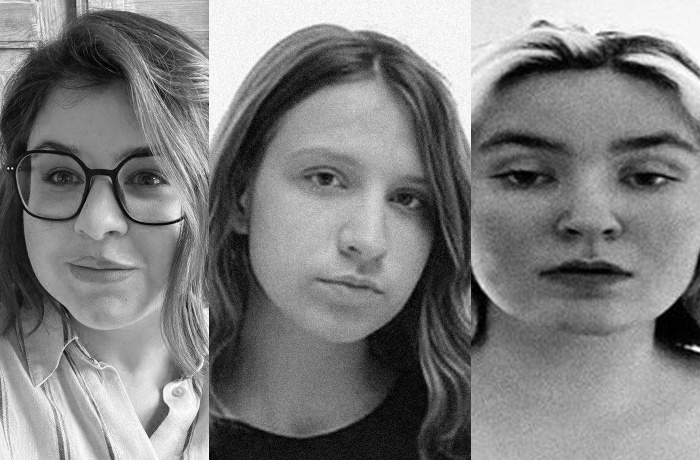 The festival team invites young people with an active civic position who are interested in documentary films to join the student jury. This year's jury consists of future professionals from various fields, including psychology, film studies and journalism, as well as visual art and design. They will choose their favorite work from among the films in the competition programs.

Anastasia Nibbe
She is finishing her studies at the Psychology Department at the Taras Shevchenko Kyiv National University. She has been creating conceptual photos at Kyiv and Berlin events for the past 3 years. Anastasia worked for the pre-selection department of the Docudays UA festival in 2021. Her works were exhibited at the Ukrainian Museum of Canada in November 2022 and at Kyiv cultural events. She works in conceptual photography with elements of performance. Anastasia has been a volunteer at various non-governmental organisations for a long time. She is currently working on her personal exhibition in Berlin.
Oleksandra Kalinichenko
Born in 1998 in Kyiv, Oleksandra is a Film Studies student at the Karpenko-Kary National University of Theatre, Film and Television in Kyiv. Since 2021, she has been working for the Takflix online cinema of Ukrainian films as the website editor and coordinator of the Takflix Patreon community. She also works as a freelance film journalist and participates in Ukrainian and international projects for film journalists, particularly by European Festival Network MIOB and Cineuropa.
Maria Chyrva
Maria was born in 2004 in Kryvyi Rih, but she soon moved with her family to Kharkiv. She is a student at the Department of Audiovisual Arts and Production of the Kharkiv State Academy of Design and Arts. Maria is a visual artist, editor, and designer. She is a member of several organisations, including the European Youth Parliament and NGO USS. As a member of the BartBuro team, she worked on the editing of the Digital Fashion Show UFEG for UFW. As a volunteer, she has worked for Kharkiv MeetDocs and Docudays UA. She is currently working on the organisation of an NGO USS film festival, I Ukrainian Libertarian Film Festival.

_____________
The 20th anniversary of Docudays UA is held with support from the Embassy of Sweden in Ukraine, the Embassy of Switzerland in Ukraine, the Ukrainian Cultural Foundation, US Embassy in Ukraine, the Embassy of Ireland in Ukraine, the Embassy of Denmark in Ukraine, the Embassy of Brazil in Ukraine, the Polish Institute in Kyiv and the Czech centre Kyiv. The opinions, conclusions or recommendations do not necessarily reflect the views of the governments or organisations of these countries. Responsibility for the content of the publication lies exclusively on the authors and editors of the publication.