Subjectively private cinematext of "The Dash" is perceived as an objective document of the epoch, the real evidence of time of its creation and experience. An author (or lyric hero) reflexes to events of different historical scale. This film constructed after principle of assembled free associations: for example, from reminiscences about the late grandmother and reflections about the "time of grandmothers" – to image of Vira Kholodna as embodied idea of eternal femininity, and consequently – to problems of conflicts between ethnic groups. The new principle working with reality fixed on a tape is declared already in the name of this film, in fact the dash is here interpreted as a sign connecting the dates of birth and death.
Awards
Grand Prix of Artsalon IFF (Potsdam, Germany, 1992); Grand Prix of Mediawave IFF (Gyor, Hungary, 1993); Prize "In commemoration of the gone masters" (Ekaterinburg, Russia, 1992); Special diploma of IFF critics (Saint Petersburg, Russia 1993); Diploma of IFF jury (Nyon, Switzerland, 1992); Diploma of IFF jury (Amsterdam, Netherlands, 1992); INPUT - International symposium of public television (Nant, France, 1998)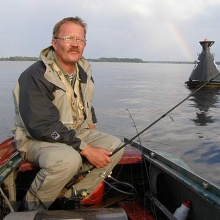 Director
Serhiy Bukovsky
Serhiy Bukovsky was born in 1960 in Bashkiriya, USSR. Graduated from the Karpenko-Karyy Kyiv State Theatre Institute, Film Direction Faculty. For more than ten years he worked at Ukrainian Documentary Film Studio. His 9-part documentary TV series "War. Ukrainian Account" (2003) won Taras Shevchenko Ukrainian National Award. People's Artist of Ukraine (2008).
Selected Filmography
Tomorrow is a Holiday (1987), "And the Night Was Dark…" (1988), The Dream (1989), The Roof (1990), The Dash (1992), Dislocation (1992), Landscape. Portrait. Fruit-piece (1993), To Berlin! (1995), Ten Years of Alienation (1996), The Bridge (1999), Vilen Kaliuta. The Real Light (2000), Terra Vermelha (The Red Land) (2001), War. Ukrainian Account (2002—2003), Spell Your Name (2006), The Living (2008)