This is a 9-minute film, shooted practically in one plan. A parable should not be explained in words. Each spectator will formulate his own understanding for things taking place on the screen.
Awards
Grand Prix of Kyiv—Clermont-Ferrand festival (Kyiv, 1993); Diploma of IFF jury (Krakow, Poland, 1992); Panorama on IFF (Oberhausen, Germany, 1993)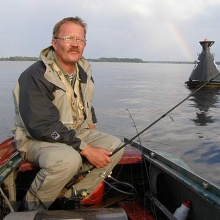 Director
Serhiy Bukovsky
Serhiy Bukovsky was born in 1960 in Bashkiriya, USSR. Graduated from the Karpenko-Karyy Kyiv State Theatre Institute, Film Direction Faculty. For more than ten years he worked at Ukrainian Documentary Film Studio. His 9-part documentary TV series "War. Ukrainian Account" (2003) won Taras Shevchenko Ukrainian National Award. People's Artist of Ukraine (2008).
Selected Filmography
Tomorrow is a Holiday (1987), "And the Night Was Dark…" (1988), The Dream (1989), The Roof (1990), The Dash (1992), Dislocation (1992), Landscape. Portrait. Fruit-piece (1993), To Berlin! (1995), Ten Years of Alienation (1996), The Bridge (1999), Vilen Kaliuta. The Real Light (2000), Terra Vermelha (The Red Land) (2001), War. Ukrainian Account (2002—2003), Spell Your Name (2006), The Living (2008)