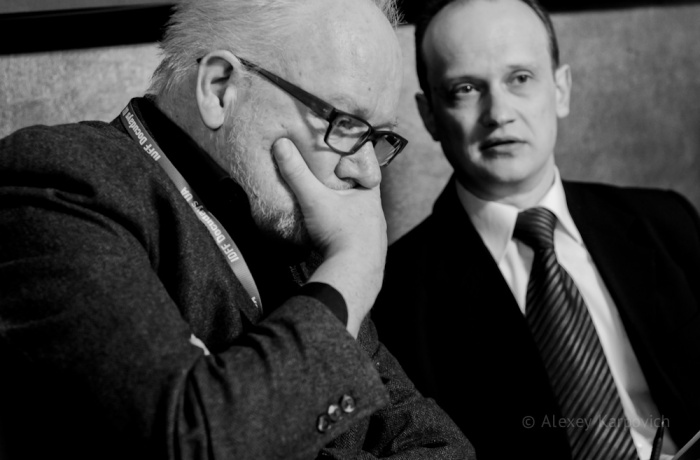 Childhood memories! Snow, snow, snow. Well, we had it in Denmark the last week but not dramatic in the Copenhagen area and no problem in taking off from Copenhagen airport friday morning or to go by the connecting flight from Düsseldorf to Kiev.
But Kiev had snow all over – and traffic chaos. It took a long time to get into the city and the driver had to give up to mount the small hill where the festival hotel is situated. So directly we went to the Cinema House, Dom Kino, where the opening of the 10th edition of Docu Days UA was to take place. Time for a lovely warm borstj soup and off we were, Estonian filmmaker Marianna Kaat, partner in crime, and I for an extremely well attended press conference (photo) and afterwards the opening ceremony which was surprising and intelligent in its dramaturgy. Actually the whole festival was on the edge of being cancelled! More about that later.
Later I wanted to go to the hotel due to my winter coughing and general tiredness. But that proved to be a challenge! The hotel is just 10 minutes from the Cinema House but it was impossible to walk. So what to do? Festival organizer, director and cameraman Roman Bondarchuk took action, put me in his car, cleaned it from snow and started the motor. But the wheels were spinning nicely and we could not move. His friend had a car in a better position in the street and he succeeded to bring us to the small hill from where we climbed the snow to reach the hotel. Bondarchuk has a new film, a photo exhibition, a masterclass and is all over the place. I survived and Bondarchuk is a hero!
Now you know where I am and I will be reporting from the snow stormed festival that I attend, also to be member of the Docu/Life jury.
www.filmkommentaren.dk