An artistic documentary about the life of shepherds in the Ukrainian Carpathians, and the fate of traditional crafts against the background of modern changes. About a day-to-job work without weekends, or any right to show weakness. About the harmonious world we have lost in the search for comfort, and about the childhood we leave behind when we put on the roles of adults.
Production
Національна кінематека України, вул. Кіото 27, Київ, Україна, (+38) 0503122949,
[email protected]
, Ольга Бесхмельниціна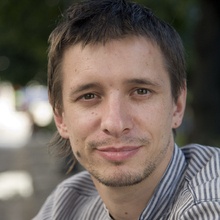 Director
Ostap Kostyuk
Ostap Kostyuk is a director, actor, and musician. He was born in 1979 in Kolomyia, Ivano-Frankivsk region. Graduated from the History department of the Ivan Franko National University in Lviv and the acting studio of Les Kurbas Theater. Worked as an actor at Les Kurbas Lviv Academic Theater and at the Song Workshop Artistic Center. He is also a musician and the co-author of such music projects as BAI. Hutsul Mystery, Banda Arkan,Tatosh Banda and Hych Orkestr.
Selected Filmography
Manu and Cabbage (2011)