This is a film about the ideal life in an ideal country. We can see how much effort the North Korean people have to make to make this ideal world work. Every North Korean is ready to give his life for this world. We see a girl in an ideal school, the daughter of ideal parents, working at ideal factories, living in an ideal apartment in the center of the capital of North Korea. The girl is being prepared to enter the children's union to be a part of the ideal society, living in the eternal rays of the sun, the symbol of the great leader of the people, Kim Il-sung.
Production
Vertov. Real Cinema, 12, Tverskaya Street bld. 8, 125009, Moscow, Russia, +74956507808,
[email protected]
, www.vertov.ru
Sales:
Deckert Distribution, Gottschedstr. 18, 04109, Leipzig, Germany, +4903412156638,
[email protected]
, deckert-distribution.com
Awards
2015 – Award for Best Central and Eastern European Documentary Film - Between the Seas at Jihlava IDF; 2015 – Special Jury Award at Back Nights IFF Tallinn;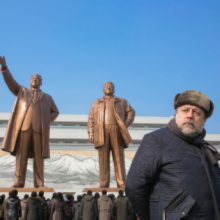 Director
Vitaly Mansky
Vitaly Mansky, born in 1963 in Lviv, the USSR, is one of the most acclaimed contemporary Russian documentary filmmakers and producers. His first film work appeared in 1989, and since that time he has shot more than 30 films which have been screened at festivals worldwide and won several awards. He is the producer of the national Lavrovaya Vetv award which is given for the best Russian documentary films. He is also the president of the annual Moscow Documentary Film Festival Artdokfest.
Selected Filmography
2015 – Award for Best Central and Eastern European Documentary Film - Between the Seas at Jihlava IDF
2015 – Special Jury Award at Back Nights IFF Tallinn