Getting trained as a hairdresser, organizing street dances, painting one's lips red… This year, we will discuss stereotypes. How do we perceive ourselves. What and why do we think about the others. Why some lifestyles are acceptable to us, and the others aren't. DOCU/YOUTH program coordinator Darya Bassel tells about the complex and exiting immersions into the stories of children and teenagers from all over the world.
We can see a French miners' town that is dying of unemployment. Here lives Luc, who decided not to attend school anymore, because the class abuses him. Looks like he wants to become a hairdresser.
Meanwhile in Finland, a group of teenagers is gathering to organize a revolution. Their revolution is the new street dance, which manifests personal freedom, along with impossibility and non-necessity to confine themselves to any existing frames. Through the dance, they not only learn about their own complexes and fears, but also are empowered to accept themselves the way they are – full of doubts and uncertainty, open-minded and brave.
At the same time, Syl and Merlin, two students from Netherlands, arrive to a refugee camp. Every morning, they help with distribution of the morning rations. Their mothers work at the camp, and Syl and Merlin came here to get acquainted with the local children. The first alert glances get dissolved in the desire to better know each other. Syl and Merlin are teaching local kids to play "rock-paper-scissors", and Youssef, Abdelrahman, and Ali share the stories about their deceased friends. At night, the guys are standing at the fire and sharing their plans for the future: "I want to become a military and work at the army. But not at the army that goes to war".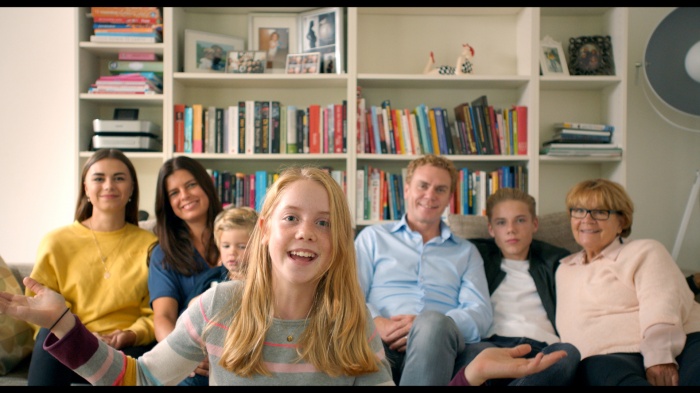 "My Happy Complicated Family"
And here is Isabel – one of the characters of "My Happy Complicated Family". Isabel is telling her family story: "This is Michaela, my biological mum. She always rouges her lips with red lipstick. And this is Jenny, my second mum". How does it feel to have a big and unusual family? What difficulties await a child, who is a part of an unconventional family? Maybe, all of this is irrelevant, and, no matter how complicated the combination is, the only important thing is the readiness to accept and love your close ones and yourself the way you are?
Traditionally, DOCU/YOUTH offers its youngest viewers a collection of short films with Ukrainian dubbing. And for older viewers, we have prepared two full-length films. All of the movies will be screened in Ukraine for the first time. The opening of the program will feature a surprise from the characters of Jenni Nyberg's "Siéva"!
Text: Darya Bassel
Title photo: frame from the film "Siéva"