The concert film Rozdilovi Live is a screen adaptation of the performance of rozdilovi, an iconic multidisciplinary project featuring Serhiy Zhadan (lyrics/voice), Olia Mykhailiuk (visualisations), Alexey Vorsoba (accordion), Tomasz Sikora (saxophone & experimental instruments) and Sergey Glow (VJ). rozdilovi explores poetry through music and visual images while focusing on rhythms and intonations. Filmmaker Vadym Ilkov invited the 11 best cinematographers in Ukraine to work on this film. 11 cameras simultaneously filmed the last performance by rozdilovi, following the artists' every movement. As a result, the film itself turned into an exploration of the artistic process, revealing unexpected and exciting moments of artistic creation and the opportunity of being together and sensing each other.
CREW
Director: Vadym Ilkov
Producer: Darya Bassel
Cinematographer : Vadym Ilkov, Serhiy Stetsenko, Andriy Lysetslyi, Oleksandr Techynskyi, Khrystyna Lizogub, Svitlana Koval, Illya Yehorov, Andriy Kotlyar, Volodymyr Usyk, Denys Melnyk, Oleksandr Roshchyn, Vyacheslav Tsvetkov
Sound : Borys Peter, Andriy Rohachov
Production
Vadym Ilkov / Вадим Ільков
Sales
KyivMusicFilm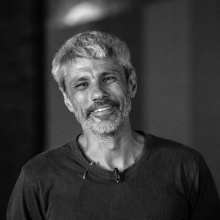 Director
Vadym Ilkov
Vadym Ilkov is a Ukrainian cinematographer and filmmaker. In 2000, he graduated from the Karpenko-Kary Kyiv National Theatre, Cinema and Television University. In 2010, he received the Gaude Polonia scholarship in cinema.
He has worked as the director of photography on a number of fiction, documentary and animation films. His most recent cinematography projects include Mariupolis by Mantas Kveradavicius (2016) and Volcano by Roman Bondarchuk (2018).
As a filmmaker, Vadym Ilkov created the documentary My Father is My Mother's Brother (2018), which won main awards in competition programmes at Visions du Réel, Camden IFF, the Odesa International Film Festival etc.
Selected Filmography
Waltz Alchevsk (2015), My Father is My Mother's Brother (2018), Rozdilovi Live (2019)