Retrospective of Claire Simon is one of Docudays UA-2020 special programmes. This year, a prominent French director will first visit Kyiv to present her works and to judge films from the DOCU/WORLD international competition as a member of the festival jury.
With no education in film, but with a background in ethnology and anthropology, Claire Simon entered cinema world as an independent author who is often responsible for the whole process in her documentary films being director, cinematographer, and editor at the same time. Her approach in the documentary is often linked to cinéma vérité tradition which is based on the idea that the one can be more honest in grasping reality only left alone with it.
The film Récréations (1992) starts with a quote from Spinoza's Ethics: "Humans lack of power in moderating and checking the emotions I call servitude." In the schoolyard, where 5-6 year-old children are playing, we enter their imaginary world with its own laws of logic and intricate rules. Where objects aren't what they seem, where branches are electric wires and a fence is a hairdresser salon. During the game, every object has the potential of becoming something more and every move has a continuation and is a starting point for new worlds. To watch the spittle flowing on the surface and feet sliding on scattered branches.
What's the most interesting in this game is how the Other reveals in it – frequently these interactions aren't so simple as they may seem to an adult eye. In childish communication, we often observe the despair that swings to a laugh in a wink. Many adventures envision violence and pressure which develop into the ability to resist and cope with one's fears. Very little is known about boundaries, but spontaneous reactions and feelings gain importance here. In her interview, Claire Simon says, "In the schoolyard, I saw children showing each other, without even realizing it, strong feelings which we usually tend to hide. At least I hide feelings I'm ashamed of. I was really moved by what I saw. It seemed to me that all the feelings of the world were reflected in this schoolyard. That this schoolyard was a kind of philosophical space, space of total abstraction where you could see everything that would happen in the world."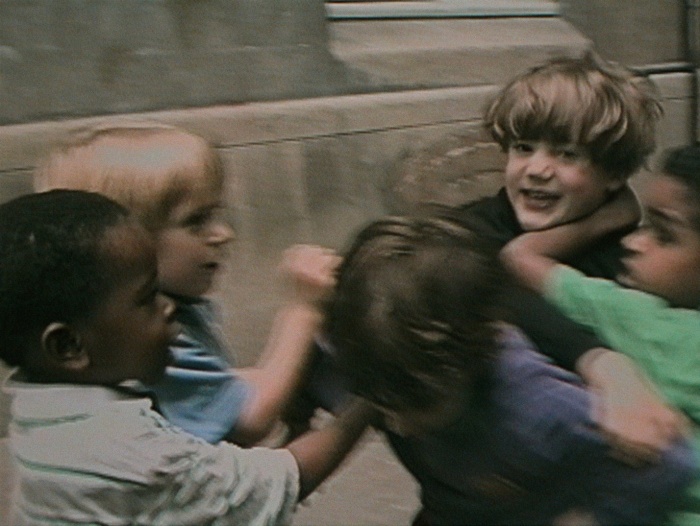 The still from Récréations film
The film Young Solitude follows intimate and honest conversations between teenagers who pose many questions to this adult life which stands on the threshold. Youth is the time when you live through most events for the first time and also ponder over things that define your behaviour and influence you – what relationship do your parents have, what relationship do you have with your closest ones – relatives, friends and beloved. The solitude that accompanies this being with others comes all of a sudden. One of the characters confesses: "I'm afraid...I know who I want to be, but I don't know who I'll be." This film was released in 2018 and the characters are 20 years old now. I wonder if their parents could speak of their intimate experience so freely and honestly between each other and on camera. For many generations questions of closeness and solitude were taboo topics, something you feel uncomfortable saying out loud. This differs markedly from what we have now when a conversation became essential and necessary because it entered the political dimension. In Young Solitude, teenagers aren't guided by revolutionary purpose, but rather the search for empathy and support which the genuine conversation can bring.
The Woods Dreams Are Made Of is also based on dialogues, but this time Claire Simon speaks to characters. We learn stories from habitues, visitors, and workers of the Bois de Vincennes in Paris, so-called "regained paradise" which life varies depending on the season. The director doesn't hide herself and her vision, she laughs off-screen together with characters and says, "Let's go, it's getting dark" or "We'll come back." This isn't a flawless observational documentary, not an interview, but rather a heart-to-heart talk – for everyone the woods reveals differently and has a unique value. A gardener for whom it's a place for "recharge", sometimes literally, he demonstrates his workouts he does during halftime and talks about his old boxing days. A gay who comes to the woods looking for a quickie and discloses all the nuances, signs and codes of this gamble. An artist convinced that he doesn't create art but rather ramble. A sex-worker who has her own "working" hours in the woods, dog-lovers and homeless, Cambodians who organize the New Year's Eve party. "What is an event? An event, say death: what is it? It's an event. What's the relationship between an event and a person? Is a wound event? Yes, if I'm wounded. It's the expression of something that happens to me. How does a wound individuate? Does it individuate because it happens to a person? Or is who it happens to what I call a person?" It's no accident that in-between human stories intertwined with the Woods, Caire Simon picks a quote from Deleuze's lecture he delivered at Vincennes Experimental University Center founded following May 1968.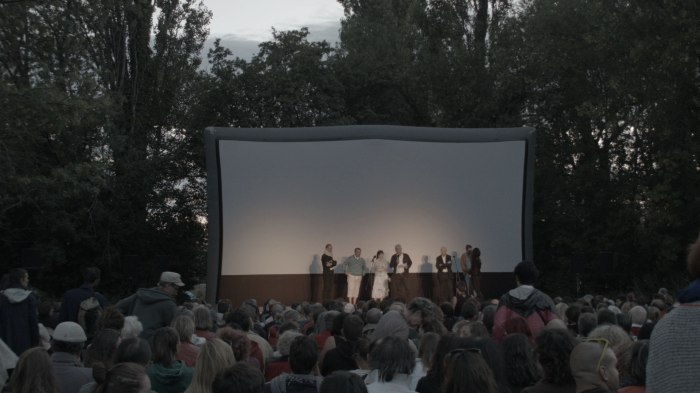 The still from The Village film
Except for these three films, a screening of a 10-episode film The Village will be held within the retrospective of Claire Simon. The story revolves around the film festival team in the French village Lussas, where winemaking and documentary are closely intertwined. With a vision of accessibility of independent documentary filmmaking, the film festival team decides to create a TV platform for film production and showcasing. This is a big step for a team because based on ideas of equality and horizontality, it confronts institutionalization, globalization, and dependence on financing. This is a reality many cultural workers face, where project activity and precarity are combined with a sincere desire to change the world.
Text: Daryna Nikolenko
Main photo: a still from The Woods Dreams Are Made Of
__
All films from the programme will be available to watch free of charge at docuspace.org from 24 April until 10 May.