Who are the rulers of the fashion world? Who drives its dream machine? The designers and models, the media, and the garments themselves, of course. But what if we look beyond them for once, and focus on the front row of the fashion shows?
Fashion Babylon
is a documentary about this particular tribe of celebrities, inhabitants of an environment in constant flux. They are the pilots of a juggernaut that sometimes chews them up and spits them out. Today, their spaceship is running out of fuel, and they must do some soul-searching.
CREW:
Director: Gianluca Matarrese
Producer: Dominique Barneaud
Editor: Tess Gomet
Production
Bellota Films, France Télévisions
Sales: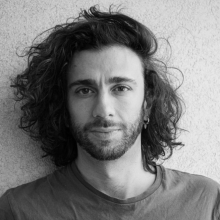 Director
Gianluca Matarrese
Gianluca Matarrese
graduated in History and criticisms of Northern American cinema and screenwriting at the Università degli studi di Torino and Paris 8. From 2008 to 2012, he ventured into the television business as a writer and director for a sitcom that he created. Since then, he has continued working as a writer, reporter, director, artistic coordinator, and casting director for over 20 TV programmes and the main French TV networks. His fiction short film
My Movie-like Kiss
won the Achille Valdata prize for best short film at the Turin Film Festival in 2014. In 2019 his documentary
Everything Must Go
won the award for Best Italian Documentary at the Torino Film Festival. His latest film
The Last Chapter
was presented at the Venice International Critics' Week winning the Queer Lion Award, and was part of the selection at IDFA 2021. He is also a fashion-film and docufashion director. His video publications have appeared in KALTBLUT, ODDA, NUMERO BERLIN, L'OFFICIEL USA, etc.
Selected Filmography
Fashion Babylon
(2022),
The Last Chapter
(2021),
Il Posto
(2020),
Everything Must Go
(2019),
Dé-cision
(2015),
My Movie-like Kiss
(2014),
Webcolocs
(2009-2012)