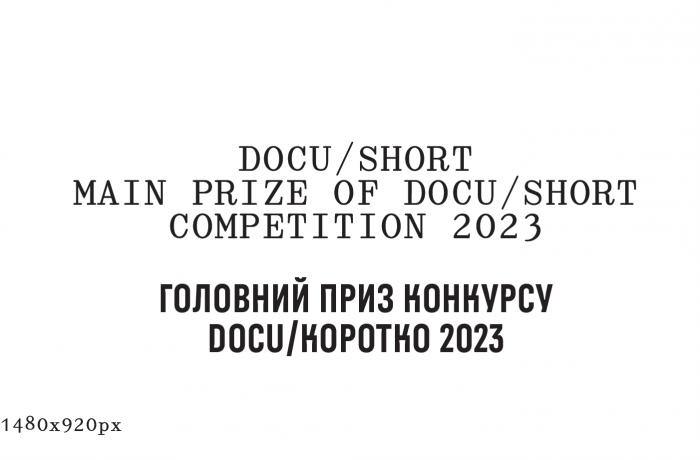 DOCU/SHORT this year is national competition of short documentaries which are up to 30 minutes long.

The winners in the DOCU/SHORT competition will be chosen by: Marko Grba Singh, filmmaker and Art Director of the BELDOCS International Documentary Film Festival in Belgrad; Gediminas Andriukaitis, founder and director of Inconvenient Films; and Olena Honcharuk, head of the Dovzhenko Centre Film Museum and winner of the competition for the position of the CEO of Dovzhenko Centre.


MAIN PRIZE


waking up in silence /
Mila Zhluktenko, Daniel Asadi Faezi /

Germany, Ukraine /
2022 /

17'40''
There is no need to know the language to understand the film. The film is a bridge between those who left, who escaped from war and those who sheltered them. Many characters are not in the frame, but their presence is very tangible. There is just a shadow of the past in the story, the past is like language — it doesn't matter, what matters is just 'here and now'.

SPECIAL MENTION


Chornobyl 22 / Oleksiy Radynski / Ukraine / 2023 /
This suspenseful film provides a unique take on the widely covered event which gripped the world's attention on the first days of Russian invasion in Ukraine. Footage obtained from mobile phones, combined with interviews with witnesses, help us understand how close the world was to a nuclear catastrophe repeating itself. The short format underlines this very possibility, restrained by several resilient, devoted and good-humored people.


The international short competition includes:

Ptitsa, dir. Alina Maksimenko (

Poland, Ukraine)

The Mist, dir. Dmytro Shovkoplyas (

Ukraine)

One Aloe, One Ficus, One Avocado and Six Dracaenas, dir. Marta Smerechynska (

France, Ukraine)

Are you here?, dir. Zlata Veresniak (

Portugal, Hungary, Belgium, Ukraine)

Second Wind, dir.

Maksym Lukashov

(Ukraine)
Forest, Forest, dir.

Maria Stoianova (Ukraine)

Mariupol. A Hundred Nights, dir.

Sofiia Melnyk (Ukraine)

waking up in silence, Mila Zhluktenko, Daniel Asadi Faezi (

Germany, Ukraine)

Chornobyl 22,

Oleksiy Radynski (Ukraine)

I Stumble Every Time I Hear From Kyiv, dir. Daryna Mamaisur (

Belgium, Ukraine, Portugal, Hungary)