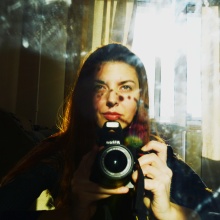 Education
Igor Sikorsky Kyiv Polytechnic Institute
Biography
Olena was born and lives in Kyiv. She graduated from Igor Sikorsky Kyiv Polytechnic Institute with a degree in Printing and Publishing.

Since November 2015, Olena has been covering the events and processes happening in Ukraine for the English-language media Euromaidan Press. During her work on a topic related to the Kryviy Rih local elections, she met a local activist Anton Kravchenko. Later, Olena decided to shoot a film about him.

The Life-Long City is Olena's second film. The first one, The Court, tells the story of the ups and downs of the process of creating an anti-corruption court in Ukraine. It was made for the English-speaking audience and published on the website of Euromaidan Press.
SELECTED FILMOGRAPHY: