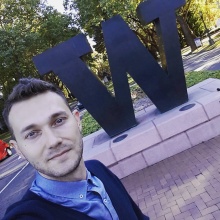 Education
Igor Sikorsky Kyiv Polytechnic Institute
Biography
Volodymyr Mula was born October 22, 1989 in Horodenka, Ivano-Frankivsk region, Ukraine. In 2006–2012 he studied at the Igor Sikorsky Kyiv Polytechnic Institute and received a master's degree.

In 2009, he founded and worked as the editor-in-chief of website TeleProstir.com He produced the LiveTime TV show and live broadcasts of the Eurovision Song Contest and worked as a special reporter during the 2014 FIFA World Cup in Brazil. Mula is the author of a series of reports on Rio de Janeiro and the infotainment project Around the Baltic States.

Also, Mula shot American Dream, a documentary about immigrants from post-soviet countries in the United States. The film depicts a Ukrainian journalist's trip in a long-haul truck. It covered 11 American states, two oceans, two borders, 10 000 km of roads, and yielded 350 gigabytes of footage. In 2017, he founded a production company by the name TeleProstir Studio.

Next year he filmed the sequel: American Dream. In Search of Truth, a feature documentary. In it, he used the stories of eight people to show paths of self-realization under varying fields and conditions. In 2018, he was a special reporter during the PyeongChang 2018 Winter Olympics. In 2020, he finished the "UKE" Documentary movie about famous Ukrainians in the National Hockey League.
SELECTED FILMOGRAPHY:
Company: